Bengaluru violence: Mob was ready for arson, finds probe | Bengaluru News – Times of India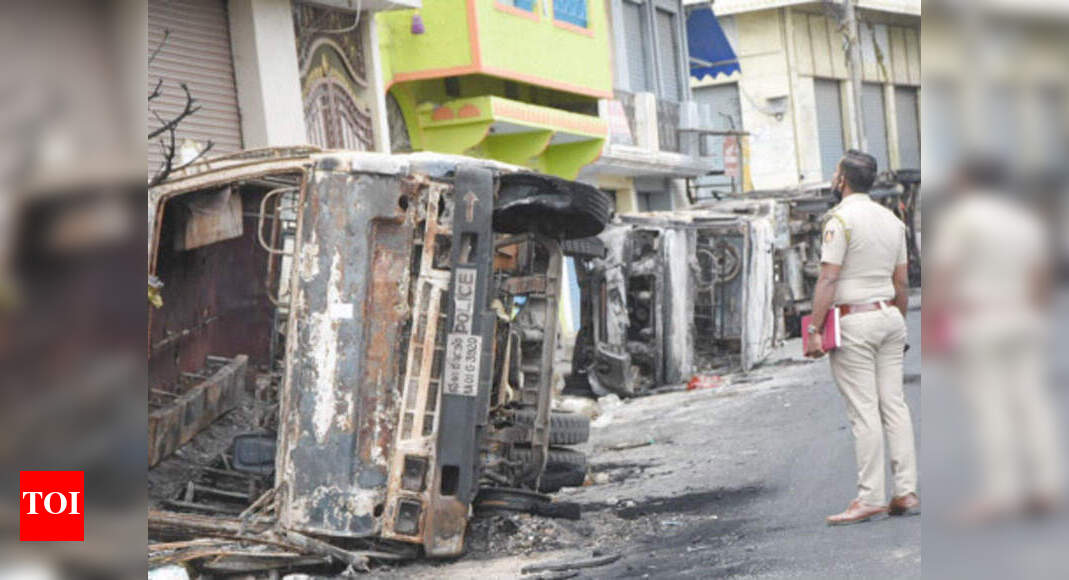 BENGALURU: Preliminary forensic findings from tests on burnt vehicles show that the mob had carried inflammable liquids, indicating that Tuesday night's violence in the eastern part of the city, which initially appeared to be spontaneous may have actually been planned.
The Forensic Science Laboratory team found traces of petrol, diesel, kerosene and paint thinner in samples they collected on Wednesday. "Prima facie, these liquids were used to set vehicles on fire. This shows the mob had come prepared to torch vehicles," an investigating officer told STOI. The final report is expected soon.
The findings came on a day a fourth person connected to the violence died in hospital. Sayyad Nadeem, 24, a resident of KG Halli, was injured in the chest and neck by a tear gas shell, police said.
Violence over FB post
Rioters forced open fuel tanks of 13 bikes and vans
The injuries were deep and Nadeem was unconscious when we traced him. He had lost a lot of blood," a source said, adding that autopsy confirmed he had no bullet injuries.
Police said Nadeem was spotted in the frontline of rioters, torching vehicles parked outside the police station. The forensic findings said of the 35 police vehicles torched, traces of kerosene and thinner were found in more than 20. The investigation also showed that in 13 vehicles, including bikes and vans, the rioters had forced open fuel tanks.
Burning of KSRP van
While reconstructing events that night, investigators found that the mob had strategically blocked off a KSRP van before burning it down.
"There was one fire tender standing by at DJ Halli police station while another one near KJ Halli station. There was only one way in and out of the place, a small lane that deviates from Tannery Road leading to DJ Halli police station," an officer said. The mob walked along with the KSRP vehicle until it entered this narrow lane and blocked it just about 500m from the police station. They then manhandled personnel in the van, the officer added.
The fourth victim, Nadeem, worked as an air-conditioner mechanic and lived with his parents, wife and three children near Anwar Layout. Police said he was part of the mob that picketed KG Halli police station and was spotted torching vehicles.