Bengaluru: Three out of every 5 patients referred by govt went to private hospitals | Bengaluru News – Times of India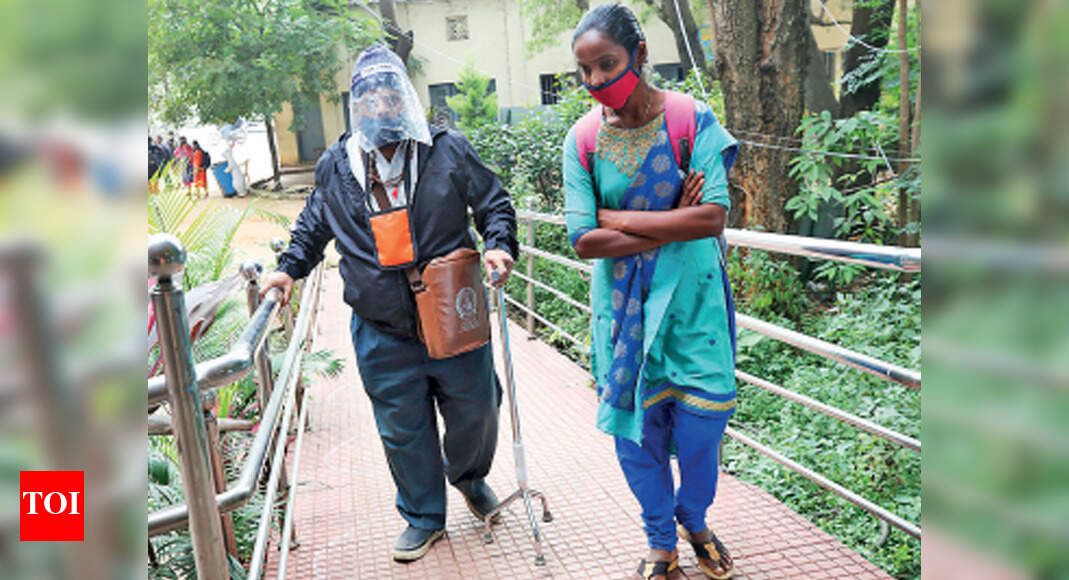 BENGALURU: Private hospitals, nowhere in the frame in the initial stages of the pandemic, have now treated nearly three out of every five infected patients referred to hospitals by the government and will have run up bills amounting to four times the sum raised by staterun hospitals.
As on Monday (Nov 23), data shows the government had issued pre-authorisation for a total 1,28,436 Covid cases to be treated in government and private hospitals. Pre-authorisation means the government pays for treatment. Of them, 73,511 patients (57.2%) were treated in private hospitals at government cost, while 54,925 (42.8%) were treated in government institutions. This is remarkable considering most patients were being treated in government institutions till late June, when 50% of beds in private establishments were earmarked for Covid patients referred by public authorities.
The cost of treatment for pre-authorised patients in private hospitals was Rs 484 crore, as against Rs 114 crore for government hospitals. In Bengaluru alone, 52,967 patients were referred to hospitals and a majority of them were sent to private hospitals.
So far, private hospitals and medical colleges have been reimbursed Rs 146.6 crore for having treated 35,187 people, while government hospitals have got Rs 19.7 crore for treating 14,564 patients. The rest of the bills are in various stages of payment.
While officials say pre-authorisation was issued based on availability of beds, location of hospitals and the nature of emergency, they admit that in several cases patients' choice was accommodated.
"The first preference was government beds, but government hospitals have fewer beds than private hospitals," said BBMP commissioner N Manjunatha Prasad, who insisted that the pressure to allocate a bed in private hospitals was seen only in 4-5% of cases.
Pankaj Kumar Pandey, commissioner, health and family welfare department, claimed the main reason why data is skewed in favour of private hospitals is because they have more number of beds.
"We also reserved beds in government hospitals for non-Covid patients too," Pandey said. "Bed availability in many taluk hospitals was limited and infected people were sent to private hospitals for treatment. When given a choice, patients may have preferred private hospitals based on their perception."
Private Hospitals and Nursing Homes Association (PHANA) said it does not have precise data on the number of patients referred to the private hospitals.
"Once private hospitals began admitting Covid-19 cases, patients needing ICU and critical care were sent to us," Dr HM Prasanna, president, PHANA, said. "Data suggests nearly 70% of healthcare nationally is delivered by the private healthcare sector. This could be true of Covid too. While 1/3rd of the cases are handled by the government, close to 2/3rd are taken care of by private players."
Dr Prasanna said many patients chose private hospitals largely because they needed better infrastructure and treatment. "Once private hospitals joined the fray, the mortality rate began declining," he said.
However, Pandey said treatment in private hospitals was often not up to the mark.
"We received several complaints about shoddy treatment in private hospitals and we intervened. Perception may have blotted out actual facts," Pandey said.
Now, with cases on the decline, the government has decided not to refer patients to the private sector unless 90% beds in government hospitals are filled. It only refers severe cases. "In case there is a second wave, we will resume 50% of bed sharing, as discussed with the government," PHANA members said.