Bengaluru students beam down from screens at NYC's Times Square | Bengaluru News – Times of India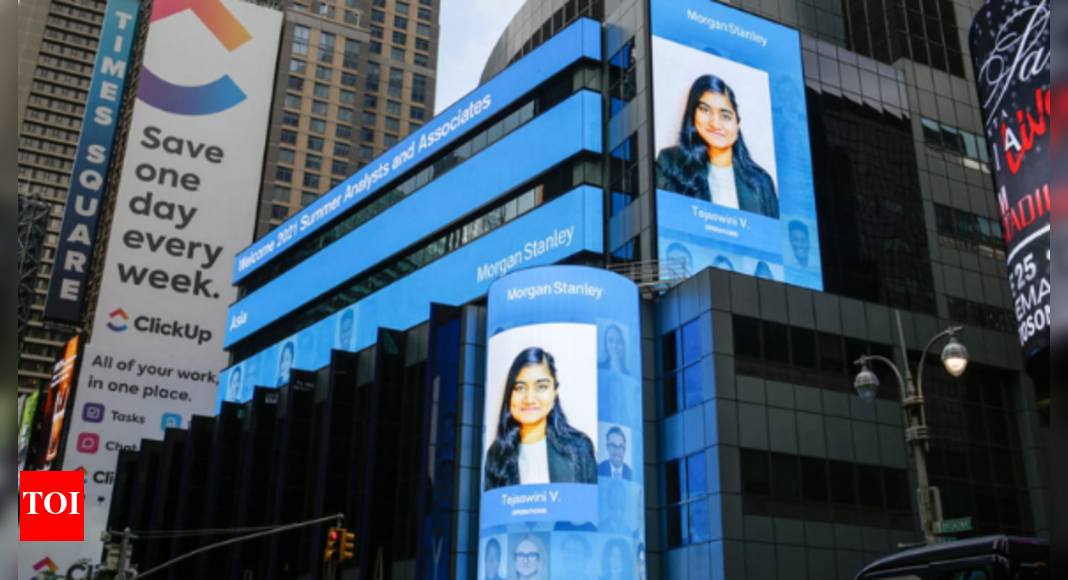 BENGALURU: Around 3.30pm on June 15, Tejaswini V, a student of Mount Carmel College and her family, sat glued to the TV at their Bengaluru home as YouTube live-streamed a view of Times Square, New York. In around 15 minutes, Tejaswini was smiling from a billboard on the facade of the Morgan Stanley's office at 1585 Broadway. The 20-yearold's photo was captioned, 'Welcome 2021 summer analysts and associates'.
She is among 277 Indian students interning with the company from colleges in Bengaluru and Mumbai. While 13 students from MCC, 16 from Jain deemed to be University and 18 from PES University are part of the internship programme, there are a few from some other city colleges too. All MCC, Jain and PES students, among others, appeared on the billboards.
All Bengaluru students had their moment of glory at Times Square as part of the campaign, a global marketing initiative of Morgan Stanley. "It felt too good to be true. Friends asked me whether I edited the photo! My parents are so proud of me," said Tejaswini, a second-year BBA student. The students are doing a10-week internship with the company.
"Every year, Morgan Stanley welcomes thousands of interns to the firm. There is usually excitement on Day 1, but in 2021, given the Covid-19 pandemic and shift to a virtual-only experience, over 400 campus interns & experienced professionals who intern with us through the Morgan Stanley Return to Work Internship programme in India, were all going to be working from home. In order to welcome and engage the interns; to create a sense of community when in office and replicate the excitement and appreciation, the 'India Interns Lights on Broadway' campaign was launched. It was to feature individual photos of interns on digital screens at 1585 Morgan Stanley headquarters on Times Square, New York, among the most visible screens on Wall Street," said the company.
The campaign was launched in February 2021, when 91 Spring Interns from India were featured. In March, 58 Return to Work interns and in early June, 277 summer interns featured in similar campaigns. "We got offer letters for internship by 2020-end. I work in client support service in operations and it's a great learning experience. We were asked to give photos but not told what they were for. We were told there's a surprise in store. When it happened, it was overwhelming. It took me a lot of time to find myself in that display. Many friends spotted me faster. Morgan Stanley made us feel really special," said Charu Raheja, an MCC student.
"When Covid numbers dipped by 2020-end, we hoped we could go to office in April this year and get the corporate experience. But were weren't fortunate. Interning online is different. But we're getting a chance to learn about business culture," said Bhavya Chandrika Saladhi, a Bachelor in Management Studies in International Business student in Jain deemed to be University.