Bengaluru realtor steals, breaks up road roller; on the run | Bengaluru News – Times of India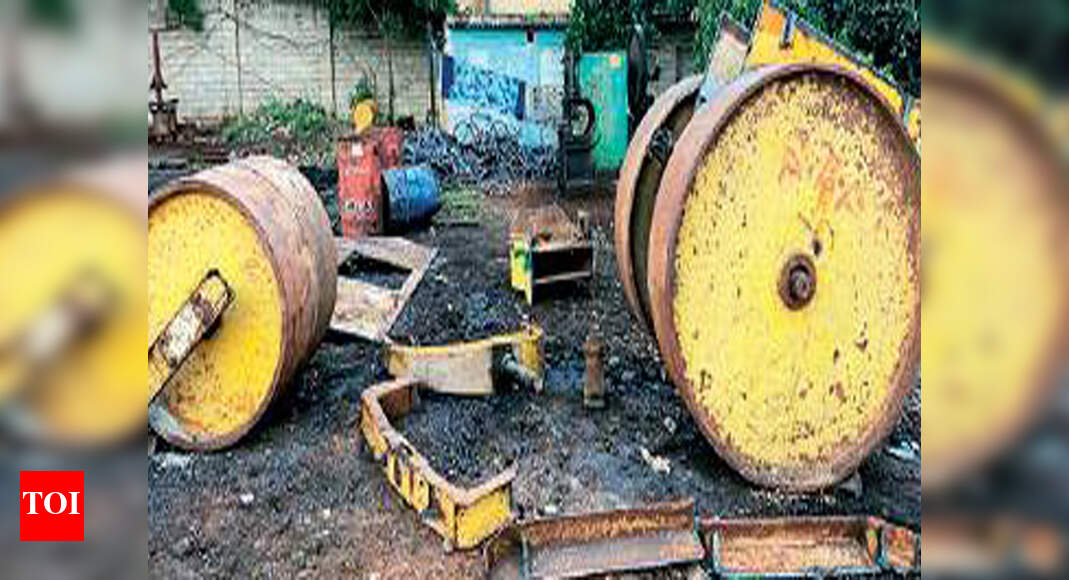 BENGALURU: Hundreds of people passed by a road roller parked for days in a playground in Nagarbhavi but it took a realtor to see the value of parts in the gargantuan piece of machinery. Once the idea hit him, N Vinay promptly had it hauled off to make money by cannibalising it for scrap — some 7.8 quintals of junk iron.
Vinay, who was convinced that the road roller was abandoned, was wrapping up a deal with a scrap merchant, Ismail, when his luck ran out. The owner of the vehicle, V Selvaraj, who was stranded due to the lockdown in Tamil Nadu where he had gone to attend a relative's last rites, returned and lodged a complaint about his missing vehicle.
Chandra Layout police recovered the road roller, cut into three pieces, by the roadside in Seegehalli, off Magadi Road. Vinay and Ismail are missing, while the former's car driver, Pavan Kumar, was arrested on Monday. Vinay, in his 30s, looks after his father's realty business, police said.
This is the first case of road roller theft reported in Bengaluru, city police said. "Preliminary investigations revealed that the road-roller was taken in a truck in the second week of June. Further probe revealed that two cranes were used to lift the road roller and place it in the truck. We collected CCTV footage of the surrounding area and started looking for the cranes and the truck," a police officer said.
Selvaraj, a resident of Arundhati Nagar in Chandra Layout, had bought the roadroller from Tamil Nadu 12 years ago for Rs 2 lakh. With no work due to the lockdown, Selvaraj had parked it in an open ground near 80 Feet Road in Nagarbhavi. He went to Tamil Nadu following the death of a relative on May 25 and returned on June 19.
"Pavan claims that Vinay got him to ship the road roller in the second week of June. They parked it by the roadside in Seegehalli, near Vinay's residence. Using gascutters, they cut the road roller into three pieces and began negotiating with scrap dealers. In his statement, Pavan told us that Vinay had agreed to sell it to Ismail for Rs 28 per kg," the officer said, adding that the vehicle weighs 7,800kg according to its papers. Vinay, son of realtor and landlord Narayanappa, is in his 30s and looks after his father's business. All that trouble would have landed Vinay less than Rs 2.2 lakh.
A senior officer said they formed a special team led by Chandra Layout inspector Brijesh Mathew to trace the stolen road roller. Police detained and questioned Pavan, 24, a resident of Kamakshipalya, on Monday. Pavan was present when the cranes lifted the roller and when the truck carried it to Seegehalli, police said.
"We have arrested Pavan and launched a manhunt for Vinay and Ismail," an officer said. Pavan was produced on Tuesday before a local court, which remanded him in judicial custody for 14 days.