Bengaluru: Pothole deadline pushed by 25 days | Bengaluru News – Times of India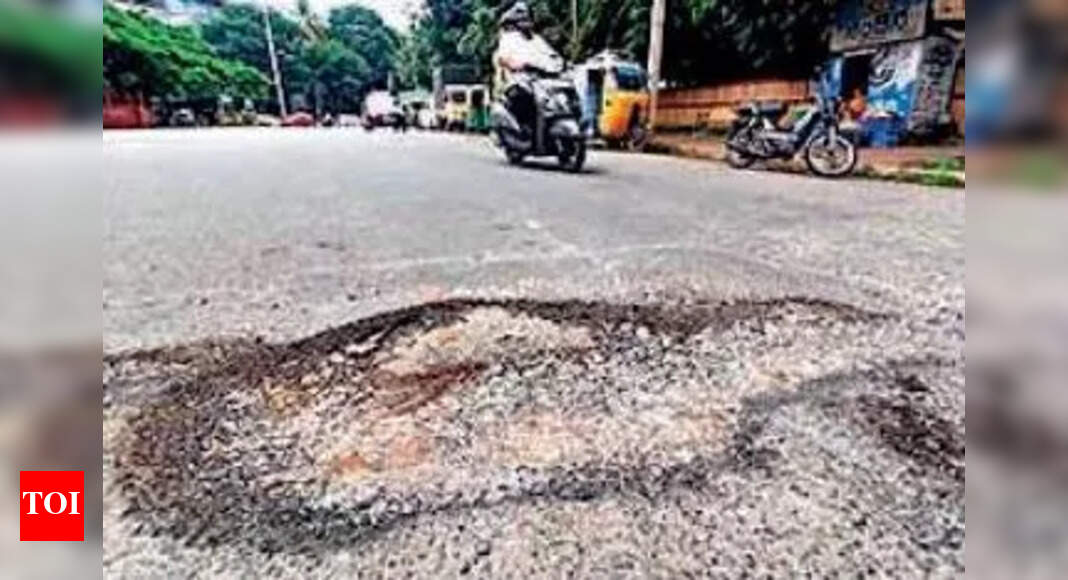 BENGALURU: The Bruhat Bengaluru Mahanagara Palike has extended the September 30 deadline it had set to fill all potholes in the city by another 25 days.
Gaurav Gupta, chief commissioner BBMP, said the deadline had to be extended due to rain. "As revenue minister R Ashoka has said, potholes on main roads will be filled by October 10 and ward roads between October 20 and 25," Gupta said.
"There are some roads in the city which are in a bad shape and we have instructed the engineers to even those stretches such that people can easily commute," the BBMP chief further said.
It may be recalled that revenue minister Ashoka held a meeting on Thursday to discuss relief for people who died due to accidents caused by potholes. "Work by Bescom and BWSSB is still under way in the 110 villages on the city's periphery. Hence, roads in these areas are damaged. The GoK has released Rs 1,000 crore for works in these areas," Ashoka had told TOI.
Using the hot mix plant available with it, the Palike used 490 truckloads of asphalt to fill potholes cumulatively spread over 157,913 sq metres from June 2021 till now.
"We agree potholes haven't been filled everywhere. But that is because of free-flowing traffic and rain, which make it difficult to complete the work," said BS Prahalad, chief engineer, BBMP (road and infrastructure). "Soon all potholes in the city will be filled and commuters can move without worry," he asserted.
Across eight zones, chief engineers, executive engineers, and others pertaining to road infrastructure works have been engaged in pothole-filling and road-fixing works.
"We have informed even contractors doing asphalting works to fill potholes," Prahalad added.
BBMP has instructed Bangalore Electricity Supply Company Limited, Karnataka Power Transmission Corporation, Bangalore Water Supply and Sewerage Board and optical fibre cable (OFC) organisations digging up roads to take up such works after seeking BBMP's permission and execute them only if necessary, considering the weather.