Bengaluru: Namma Metro's daily ridership touches 3 lakh | Bengaluru News – Times of India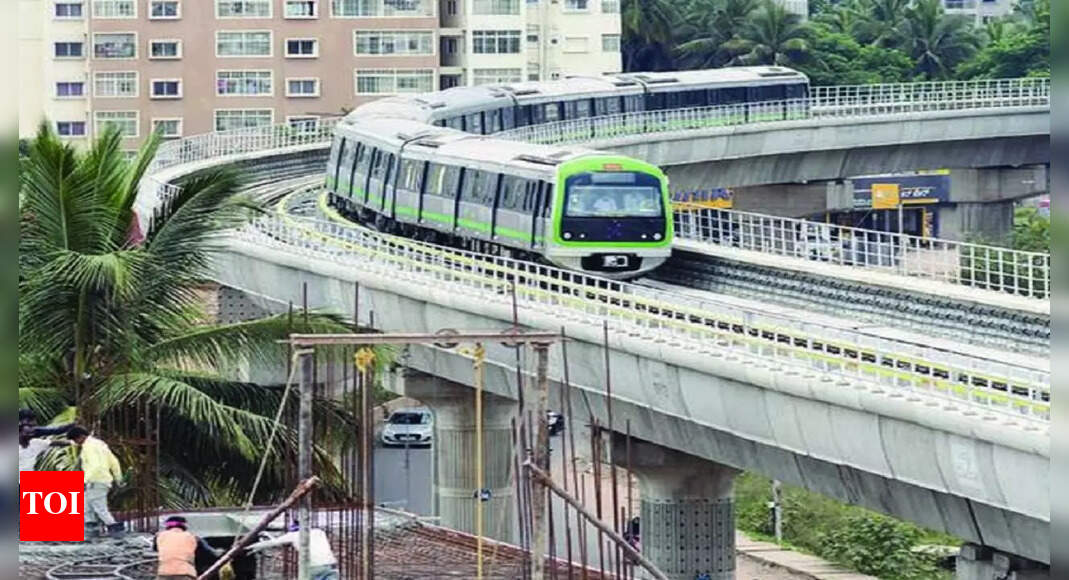 BENGALURU: Namma Metro's daily ridership touched 3 lakh on Monday, the highest since services resumed after the second Covid-19 wave lockdown on September 7.
BL Yeshwanth Chavan, chief public relations officer, BMRCL, said ridership on Monday (November 15) rose to 3.1 lakh (1.5 lakh on Purple Line and 1.6 lakh on Green Line). However, while these figures are a significant increase, they are still a long way off from the 5.2 lakh people who used the Metro before the pandemic hit in March last year.
BMRCL records show the highest ridership in its history was over 6 lakh on October 25, 2019 (Purple Line: 3.3 lakh, Green Line: 2.7 lakh).
Chavan said average daily passenger revenue fell from Rs 1.1 crore (January 2020) to Rs 59.4 lakh in October 2021. "Daily operational cost is now Rs 92.3 lakh a day," he said.
Experts say resumption of normal life, re-introduction of tokens, extension of timings and expansion of the network (Silk Institute-Yelachenahalli and Mysuru Road-Kengeri) are reasons for the spike in ridership.
Namma Metro now has a 56km network (Purple Line 25.6km) and Green Line (30km) compared to 42km before Covid-19. However, ridership is unlikely to touch pre-Covid times anytime soon due to the work-from-home arrangement for techies and office goers and fear of the virus.
BMTC ridership up
BMTC officials said they are now operating around 5,300 buses including 5,151 non-AC and 146 AC vehicles. BMTC's ridership is now around 25 lakh. "Our daily ridership increased from 20 lakh in October to 22 lakh now. The daily passenger revenue is around Rs 3 crore now," said a BMTC official.
More feeder buses at night
Meanwhile, BMTC on Wednesday said that they will run Metro feeder services from major stations up to 11.30pm from Thursday. The routes are SV Metro station-Central Silk Board, SV Metro Station- Whitefield TTMC, SV Metro station-KR Puram, Vijayanagar Metro station-Ambedkar College, Rajarajeshwarinagar Metro Station-BEML 5th Stage, Jnanabharathi Metro Station-Ullalu Satellite Town, Jalahalli Metro Station-Vidyaranyapura, Jalahalli Metro station-Peenya 2nd Stage, Nagasandra Metro station-Chikkabanavara, Jayanagara Metro station-Jambu Savari Dinne and Silk Institute-Kaggalipura.