Bengaluru motorists say fuel price reduction paltry; petroleum dealers cry foul | Bengaluru News – Times of India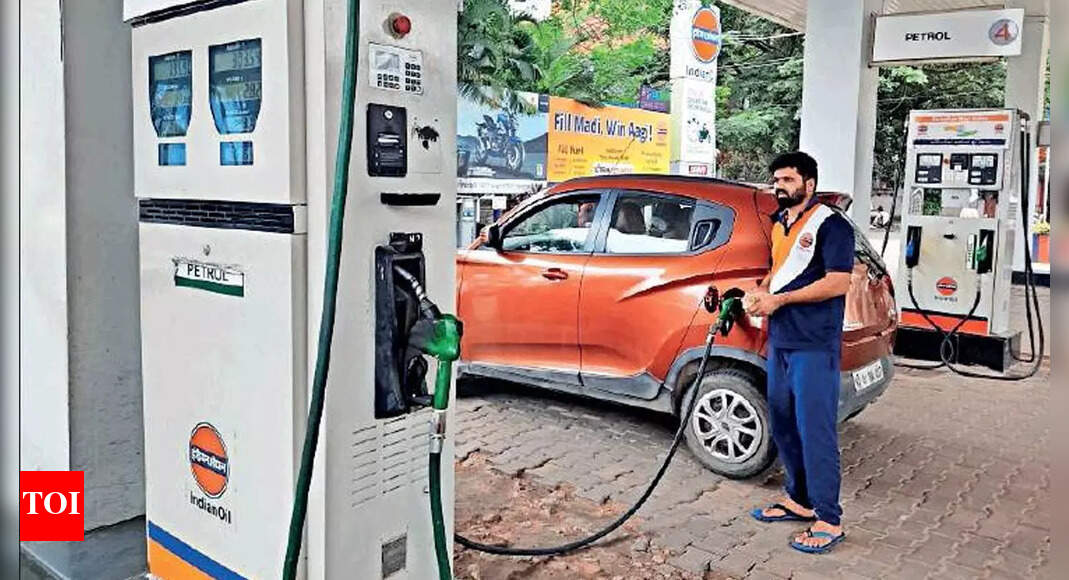 BENGALURU: A day after the Union and state governments announced reduction in fuel prices, many motorists here say it's not enough.
In Bengaluru, petrol price reduced from Rs 113.93 /litre on Wednesday to Rs 107.64 on Thursday morning at Indian Oil petrol bunks, while diesel price fell from Rs 104.50/litre to Rs 92.03/litre.
Late in the evening, the Karnataka government's Wednesday night announcment of Rs 7 per litre reduction in state tax on fuels kicked into effect, following which petrol and diesel prices were Rs 100.58 and Rs 85.01 respectively. Motor fuels are costlier by a paise or two at bunks of other petroleum corporations.
On Wednesday night, CM Basavaraj Bommai had tweeted: "Even though it will mean a loss of Rs 2,100 crore to our exchequer, it will bring down the prices for our citizens to Rs 95.90 & Rs 81.50 (approx.) for petrol and diesel respectively".
However, many fuel dealers disputed it, saying that fuel prices will cost more. The current fuel rate in Bengaluru is Rs 4.68 and Rs 3.51 more per litre for petrol and diesel than the CM's projections.
Not all motorists were glad. Tinu Cherian Abraham, a social media influencer, tweeted: "Reminds of the shopkeeper's tactic — increase the price by 50%. Give a discount of 10%. Everyone happy (sic)."
Kirankumar S, a motorist from Indiranagar, said: "This reduction is not any Deepavali gift. They were forced to reduce it due to recent bypoll results. If they're serious about common people, they should keep petrol and diesel prices below Rs 70 per litre."
On Thursday morning, there were fewer customers at most fuel stations. "The demand was less mainly due to Deepavali and due to the rumours that the price would be reduced further. Those travelling for emergencies and going far filled their tanks in small quantities," said an outlet owner.
Fuel dealers upset
The sudden reduction of prices has not gone well with dealers. Many had bought extra stock for the long weekend. "The stock bought earlier has to be sold at the revised price. The more the stock, higher the loss. The sudden decision has left all dealers in a lurch," said a dealer in the city. A Tharanath, another fuel dealer, said: "Most of us suffered losses between Rs 15 lakh and Rs 35 lakh due to the unscientific reduction of prices. The Centre should increase profit margins of dealers. The margin has not been revised since 2017."
KM Basavegowda, president, Akhila Karnataka Federation of Petroleum Traders, said: "The reduction in excise duty is welcome but should have been implemented in a phased manner like the way it was increased."