Bengaluru lockdown news: Today's updates from your city | Bengaluru News – Times of India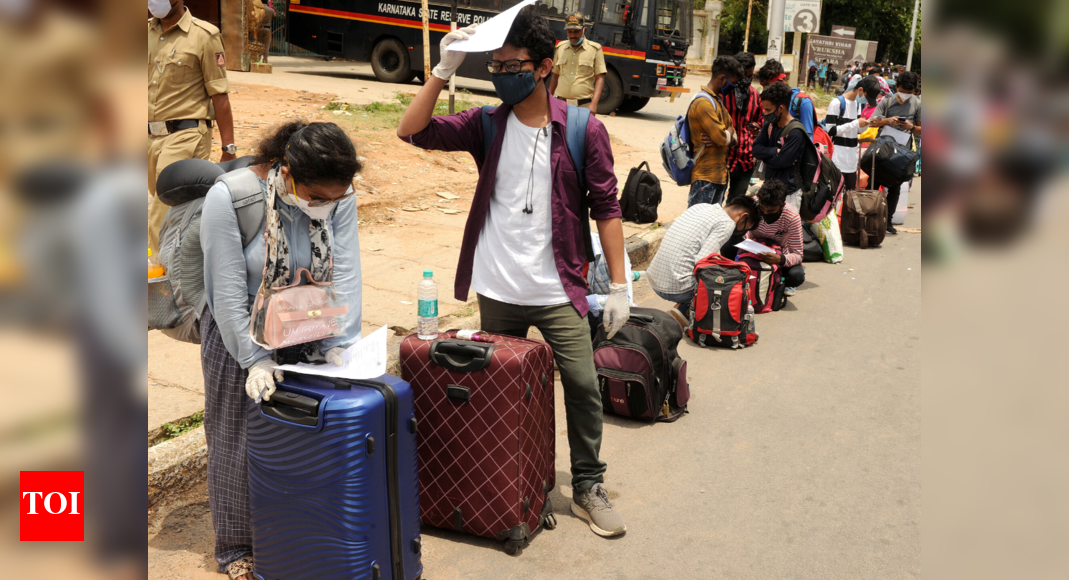 Stranded migrants wait for the government health check-up before boarding the train in Bengaluru.
Amid prevalent chaos and uncertainty over access to the essential services and commodities during the lockdown, we bring you the latest updates from Karnataka.
Update at 2.27pm: Fresh applications for JEE-Mains can be submitted from May 19-24, reports PTI quoting HRD ministry
Update at 1.34pm: After rigid lockdown for 56 days to contain coronavirus, starting from March 24, Karnataka on Tuesday started limping back to normalcy with autorickshaw, cabs and city buses plying on the roads adhering to the new norms issued by the government.
Update at 12.57pm: 127 test positive for Covid-19 in Karnataka; tally in the state rises to 1,373
Update at 12.15pm: Ministry of home affairs issues revised SOP on the movement of stranded workers by trains
Update at 11.24am: Operate more special trains for migrant workers by pro-active coordination with Ministry of Railways, MHA tells states
Update at 11.17am: Lack of clarity about running of trains, buses coupled with rumours is causing unrest amongst migrant workers, MHA tells states
Update at 10am: KSRTC has begun booking of tickets from May 18. Ticket counters have been opened after implementation of new guidelines for the fourth phase of Covid-19 nationwide lockdown.
Update at 9.25am: Death toll due to Covid-19 rises to 3,163; cases climb to 1,01,139, reports PTI quoting Union health ministry
* Hotel sector irked by Centre's raw deal
Lockdown 4.0 guidelines have put paid to plans of hotels, restaurants, shopping malls, fitness centres, gyms, multiplexes and single-screen cinemas who were gearing up to open up.
On Tuesday, hoteliers will meet chief minister BS Yediyurappa and request him to allow hotels and restaurants to open. "If our demand is not met, we'll en masse stop parcel service at all 60,000 restaurants across Karnataka from May 20,'' said Rao. Yediyurappa on Monday threatened to initiate action against hoteliers who don't offer parcel service.
* K'taka bans entry from Gujarat, Maharashtra and Tamil Nadu till May 31
Karnataka on Monday banned entry of people from Gujarat, Maharashtra and Tamil Nadu, which have seen a spike in Covid-19 cases in the recent weeks, into the state till May 31.
The decision to impose travel restrictions follows the recent arrival of a large number of people from Maharashtra, Gujarat and Tamil Nadu. Scores of those returning from the affected western states tested positive in quarantine, leading to a spike in the number of infections in the state.
* SSLC exams from June 25; PUC Eng paper on June 18
Ending a wait of more than two months for students, Karnataka on Monday said SSLC exams would be conducted between June 25 and July 4 while the second PUC English paper will be held on June 18.
Following a meeting with CM BS Yediyurappa, primary and secondary education minister S Suresh Kumar said there would be a day's gap between the SSLC papers. Around 8.5 lakh students will appear for the SSLC exams and special provisions are being made to ensure their safety, he said.
* Buses, cabs and autos back on roads, parks open today
Starting Tuesday, buses, cabs and autorickshaws will ply while businesses can resume — outside containment zones and with distancing and safety protocol in place.
"Barring hotels, malls, cinema halls, gyms and fitness centres, all businesses can reopen from Tuesday," CM BS Yediyurappa said.
Most businesses, including hairdressers, beauty parlous, spas and street food vending can resume from Tuesday, after more than two months of grinding to a halt in the nationwide lockdown. Joggers and morning walkers can also breathe in some fresh air as the government allowed public parks to open for four hours a day — from 7am to 9am and 5pm to 7pm.