Bengaluru: Jalahalli underpass work won't disrupt traffic, says BBMP | Bengaluru News – Times of India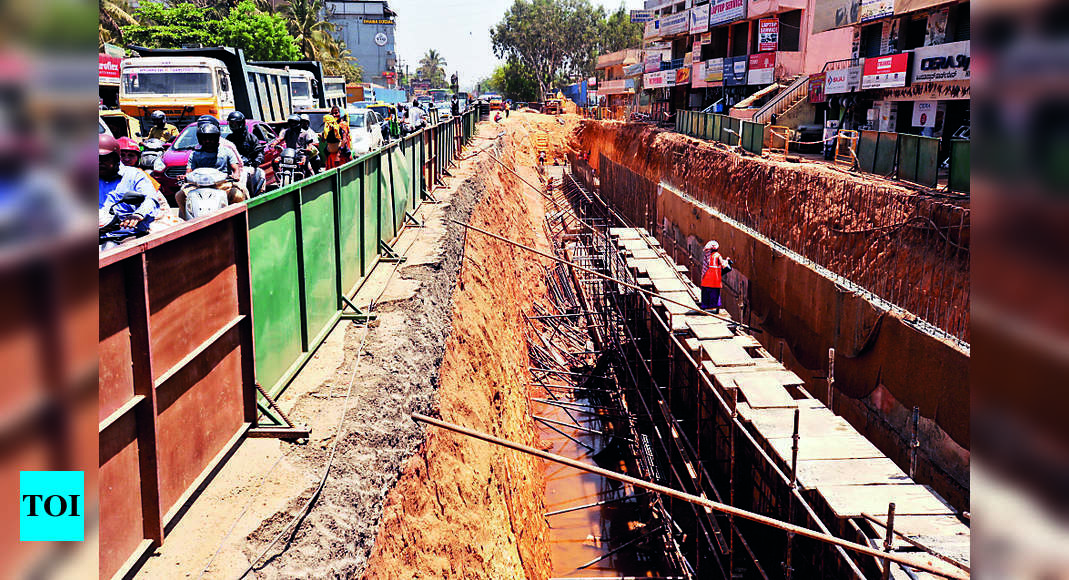 BENGALURU: BBMP is making arrangements to ensure traffic movement is not restricted during construction of a grade separator at Jalahalli Cross, the intersection of Subroto Mukherjee Road and Tumakuru Road.
The civic agency has proposed constructing the underpass using the tunnelling and contiguous piling method for the first time to make sure vehicular movement can continue at the busy junction even as work goes on underground. According to officials, the underpass will be built by burrowing a tunnel and its retaining walls by using contiguous piles. The dry and cohesive soil at the spot is said to be apt to take up such work.
The proposal involves construction of a four-lane divided bi-directional underpass along Subroto Mukherjee Road and Peenya Industrial Ring Road, across NH-4. It will include a 7.5m-wide slip road and 3m-wide footpath along with a drain and utility pipes towards the Gangamma Circle side and 11m-wide slip road and 3m- wide sidewalk along with a drain and utility pipes towards Peenya Industrial Area side at grade level.
"Traffic volume at this junction is significant and there is no alternative route available to divert it," said BS Prahallad, chief engineer, BBMP (roads).
The junction is in the middle of a thickly populated area which teems with industrial and commercial establishments and residential pockets and witnesses a large footfall. Given the volume of motorised traffic at the junction, pedestrians face grave risks.
"This project is the need of the hour. It will have four subways for easy movement of pedestrians," the chief engineer added. Acquisition of 10,432sqm of area has been completed. The total cost of the project is Rs 108 crore and it's expected to be completed within a year. Work will begin in a month.
BBMP officials said the Kundalahalli underpass method can't be used here and hence the new technique. "The open-cut method in Kundalahalli was a disaster as the work is still under way and there are only two service roads available for commuters, which are chock-a-block with vehicles. Delay in land acquisition also complicated problems," Prahallad said.