Bengaluru: Four swim for 2km, rescue cow from drowning in Vrishabhavathi stormwater drain | Bengaluru News – Times of India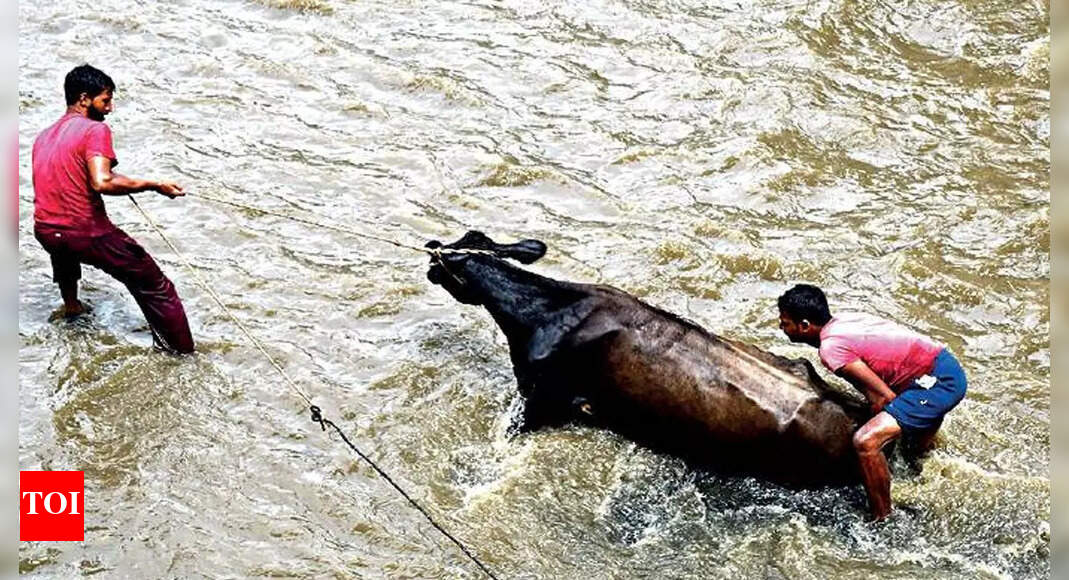 BENGALURU: After swimming for over two kilometres in neck-deep water on Wednesday morning, four men rescued an eight-yearold cow that was being swept away in Vrishabhavathi Valley stormwater drain.
The incident followed continuous rain that lashed southwest Bengaluru from Tuesday evening to Wednesday morning.
Dairy farmer Aftab, 24, a resident of ITI Layout, near RR Nagar arch, took his herd of 20 cows and calves for grazing when one of the calves fell into an open stormwater drain around 8.30pm. As the calf was swept away in the swirling waters, its mother too plunged into the drain.
A bystander alerted Aftab about his cow and calf falling into the drain. Aftab and three of his friends, Asif, 28, Manu Raj Aras, 32 and Manu, 42, all residents of ITI Layout, immediately jumped into the drain to rescue the cattle. "Our concern was to save the cow and the calf. We didn't think about the depth of the water or how dirty it was. Our only priority was to save the cow and didn't fear our lives," Aftab narrated.
The quartet waded through the dirty water, which was neck-deep at several places, as the cow and the calf were swept away by the strong current.
"We swam for nearly two km. The calf had vanished but we could latch on to the cow. All four of us held on to the cow. Our cries drew some people to the drain and they threw us ropes from the banks. We held on to the ropes and managed to tie some around the cow," Manu Raj said.
But the current was so strong that it dragged the cow and its saviours further away. "We could barely breathe. The murky waters were hitting us on the face," Manu recalled. The quartet finally found a small opening in the drain near Jnanabharathi Junction where the water level receded. Heaps of garbage piled on the banks of the drain made their task of pulling out the cow easy.
"We couldn't save the calf, which is very upsetting. We are yet to see the carcass. It was just 25 days old and very beautiful which cream skin," Aftab lamented.
He blamed the civic body for not providing grazing lands. "We cannot let our cows feed anywhere. If we send them to the road, BBMP catches them and slaps hefty penalties. If we leave them elsewhere, this is what happens," he rued.
It may be recalled that three cows drowned in a cowshed near RR Nagar on Sunday night. Three other cows and three goats from the same shed had been washed away and their carcases were found in the Vrishabhavathi Valley SWD later on Monday.