Bengaluru: 'Even one vax dose reduces infection severity, mortality' | Bengaluru News – Times of India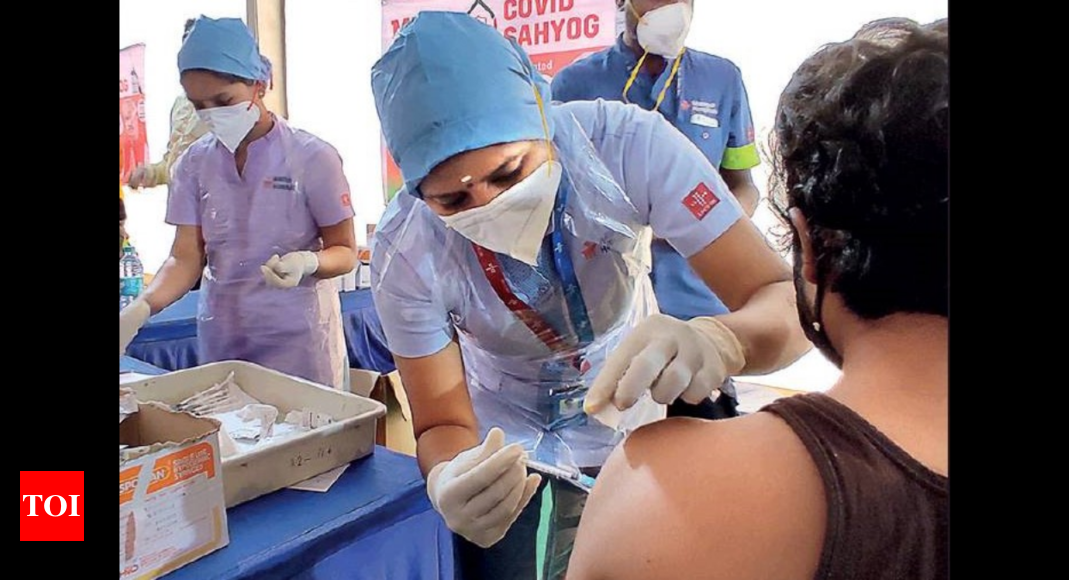 BENGALURU: A study conducted by a leading private hospital in Bengaluru has found that the mortality rate among Covid-19 patients was much higher among people who did not take even one dose of the vaccine as against those who did.
While the rate was 18.7% among non-vaccinated individuals, it was 13.5% among those who took at least one dose of either Covishield or Covaxin. Significantly, there was no death among patients who had received both doses of the vaccine.
Infection post vaccination, or 'breakthrough infections, indicate the possibility that the vaccine might not have fully worked. But the benefit of inoculation may extend to this group also. To look at this aspect, Apollo Super Speciality Hospitals, Jayanagar, Bengaluru, studied patients with breakthrough infections, focusing on the impact of vaccination on mortality and severity of disease.
The study included the first 500 patients with moderate to severe Covid admitted between April 21 to May 30. Of the 500 patients, 320 (64%) were male. The mean age was 52.5 years. While 256 (51.2%) patients had at least one comorbidity, 37.5% and 30.5% suffered from diabetes mellitus and hypertension respectively. While 148 patients (29.6%) took at least one dose of the vaccine before being hospitalised, 14 (9.5%) of them had received both doses. Most of them, 124 (84%), had received Covishield while the remaining 24 (16%) had taken Covaxin.
The median time from first dose to hospitalisation was 25 days (1 to 150 days). The median time from second dose to admission was 18 days (2 to 51 days) – time enough for vaccine immunity to have kicked in. Of the 148 who took the dose, 105 (71%) had either diabetes or hypertension or both.
"Both Indian vaccines Covishield and Covaxin had a significant impact on reducing severity of disease, inflammatory markers, need for respiratory support and a trend towards lower mortality," the report states.
Despite greater comorbidities (71%) among patients who were vaccinated compared to non-vaccinated patients (53.5%), the severity of Covid and mortality trend was clearly less among those who took the shot. Of the cohort's 80 patients who landed in ICU, a majority (61) were not vaccinated as against 19 who were vaccinated with at least one dose.
Of the non-vaccinated 352 patients, 66 (18.7%) died, and among the vaccinated 148, 20 (13.5%) died.
The study was conducted by doctors Sameer Bansal, Vikyath Sathish, Amoghaavarsha V, Hariprasad Kalpakam and Ravindra M Mehta from the department of critical care and pulmonology. It began on April 21, when the hospital began taking in Covid patients during the second wave. The hospital had started taking note of vaccination status of all its patients during the second wave and has now published this preliminary study. The study has been submitted to a journal for publication.
"As per this study, after even a single dose of vaccination, a lower severity of disease and a trend to lower mortality was seen despite the vaccinated persons having more risk factors such as higher mean age and comorbidities," said Dr Mehta, who spearheaded the study.
While the push for two doses is imperative, given significant availability issues at this point, the study shows that there are significant advantages with even a single dose of the vaccine. "Further studies with larger numbers are needed to clarify the mortality benefit," the report states.
The researchers conclude that though breakthrough infection is possible, vaccination impacts disease severity despite hospitalisation for Covid-19 pneumonia. In short, even if vaccinated people get admitted, their disease severity is significantly reduced, an important message to be given to encourage vaccination, the doctors said.