Bengaluru: Duo hid drugs in soap boxes and books, couriered them to buyers | Bengaluru News – Times of India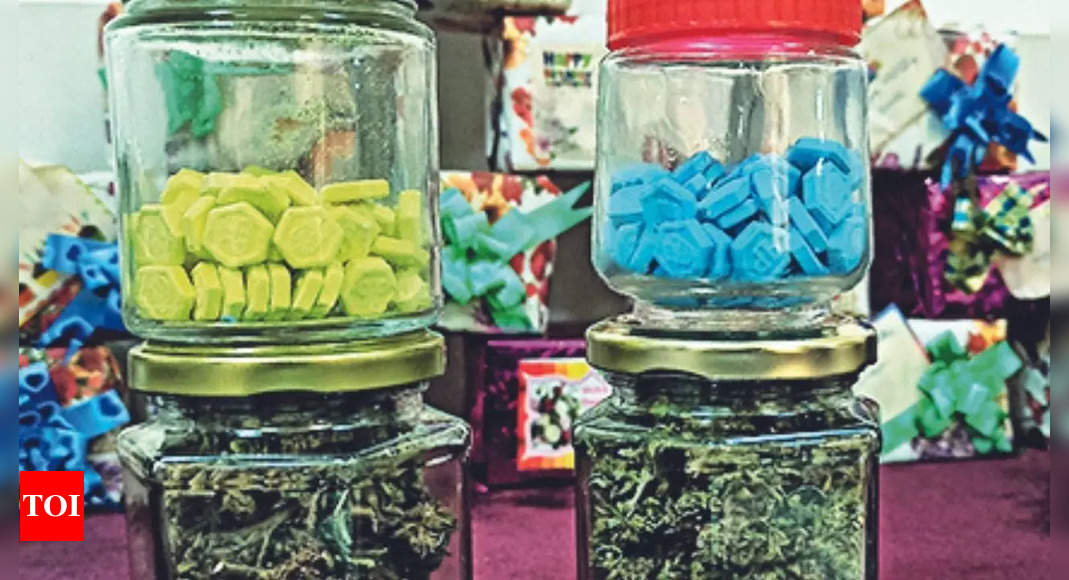 BENGALURU: Two persons were arrested by Central Crime Branch (CCB) police on Friday for allegedly collecting and delivering narcotics for a drug-peddling syndicate operating from New Delhi.
The accused are Ravi, 28, and Ravidas, 30, both residents of a paying guest accommodation in Bellandur.
According to police, Ravi was at large since last month after a drug-peddling case was registered against him in Whitefield police station.
Cops were collecting information about him and learnt that he stayed in a PG with one of his associates.
A police team headed by inspectors BS Ashok and Deepak R rushed to the PG and arrested the duo.
Police seized 300 MDMA pills, 100 LSD paper blots, 350 grams of charas and 1.5kg of hydroganja, all worth Rs 60 lakh, apart from gift boxes, packing covers, T-shirts and bags in the name of delivery and courier services firms from their room.
Preliminary investigation revealed the accused duo was hired by a main drug peddler settled in New Delhi.
The peddler used to pay Rs 50,000 each per month to the duo, who had to collect narcotics from mules or postal/ courier services and send them to his customers using delivery and courier firms.
The accused hid the drugs in soap boxes, photos frames, greeting cards and books. Later, they packed them in boxes to make them look like gifts and sent them to customers in Bengaluru.
Police said the syndicate based in New Delhi used to procure narcotics from foreign countries and local peddlers in India using darknet. Payment was made through cryptocurrency.
The main peddlers used to collect money from customers using various mobile apps. A case has been registered against in Bellandur and CCB police have taken it up for further investigation.