Bengaluru: Contractors accused of cheating Metro workers | Bengaluru News – Times of India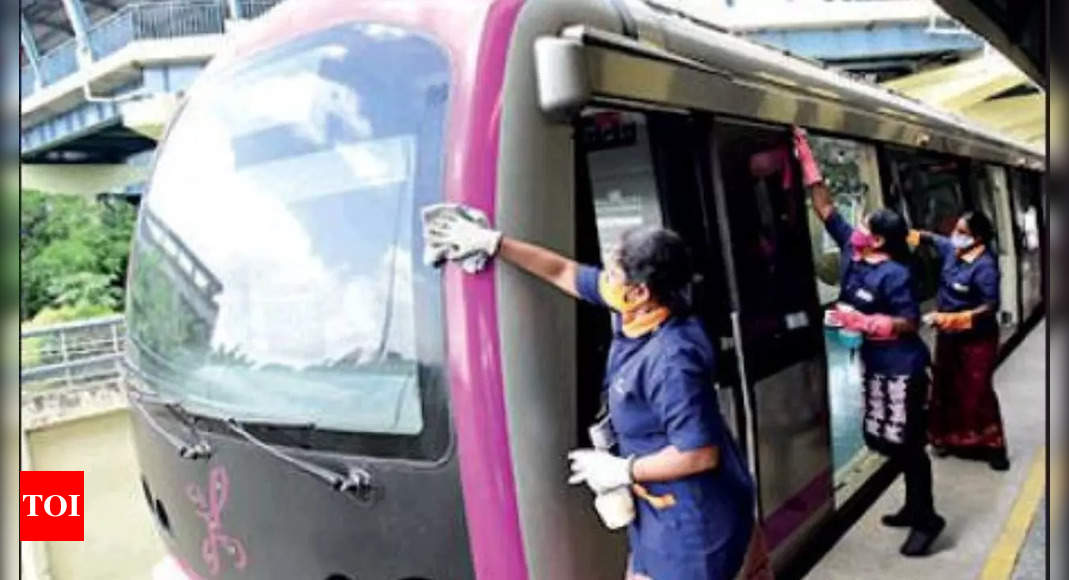 BENGALURU: Metro employees, especially those engaged in housekeeping, security and ticket office machine (TOM) work, are receiving lower salaries than they are entitled to because of alleged irregularities by private contractors.
TOI accessed a copy of an email sent by a whistleblower and former senior Metro employee to the BMRCL management.
Housekeeping supervisors should have a gross pay of Rs 16,835 and net pay of Rs 13,036, while security staff should get Rs 16,293 and Rs 12,610, respectively.
The TOM staff should get Rs 18,318 as gross and Rs 14,381 as net pay. The net pay is after statutory deductions such as employees' provident fund, professional tax and employee state insurance.
"But contractors are paying only Rs 8,000-9,000 to housekeeping and security supervisors and Rs 10,000-11,000 to TOM supervisors," the former employee claimed.
Similarly, salaries of normal contract staff are: housekeeping (gross pay: Rs 15,487, net pay: Rs 11,979), security (gross: Rs 15,104, net: Rs 11,675), and TOM (gross: Rs 16,835, net: Rs 13,038). "But contractors are paying them Rs 7,000-9,000 a month," he said.
A senior BMRCL official said they will look into the complaints and act.
How it works
Explaining the contractors' modus operandi, the whistleblower said BMRCL fixes an amount for salaries and contractors can quote only service charge. "Most contractors are quoting service charge as low as 0.01% to grab the tenders… It is a mystery how contractors earn profit by quoting just 0.01% service charge. Now they are also dividing the tenders among themselves," he said.
He alleged that contractors neither inform employees of the payment details nor display them on notice boards despite what the rules say.
"Contractors are also mandated to issue appointment letters to staff. That is never done and they normally give a fake copy to BMRCL. The employees don't question it for fear of being removed from service," he said.
"There are nearly 3,000 contract workers in BMRCL. If an employee loses between Rs 3,000 and Rs 4,000 each month, it will be Rs 90 lakh to Rs 1.2 crore a month in total. In addition to this, illegal deductions under retention, uniform, rent, penalty etc further reduce salaries," he pointed out.
'Complaints lodged'
Suryanarayana Murthy, vice-president of BMRCL Employees' Union, said, "In many cases, contractors deduct money from employee salaries in the name of food and accommodation never provided to them. Most bills are fudged to claim money."
He said the union has filed complaints, but no action has been taken against errant contractors.
He said the union has also written to the BMRCL management about salary allowances not paid to employees but claimed using forged documents. "Most signatures are not of employees. BMRCL is losing around Rs 20 lakh every month," Murthy said.