Bengaluru commuters demand more BMTC, Metro services | Bengaluru News – Times of India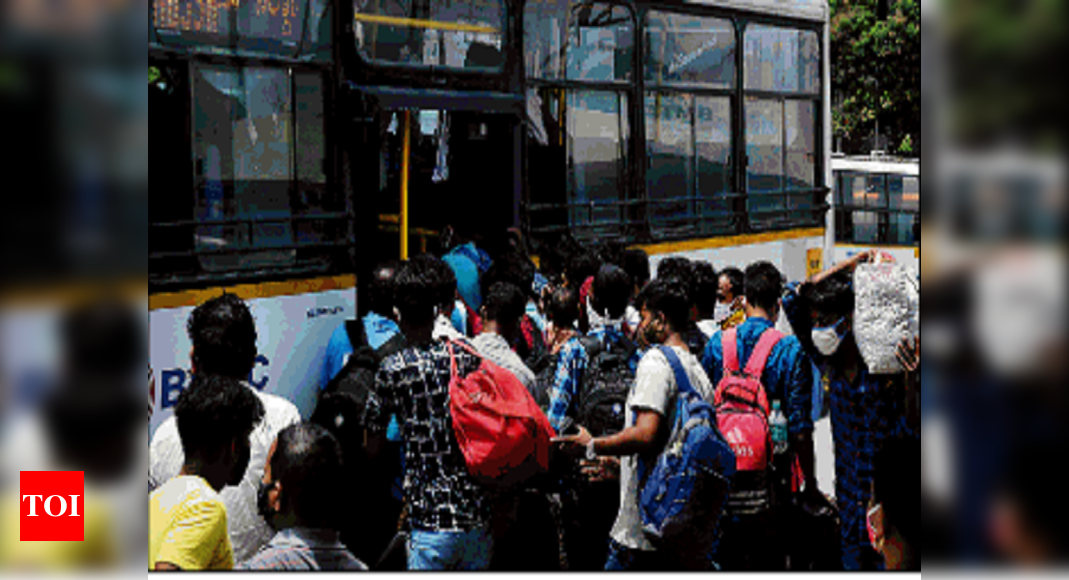 The state government restarted transport services on June 21 after a gap of nearly two months. BMTC's passenger numbers are going up
BENGALURU: Days after the state government restarted public transport, commuters have urged BMTC and Namma Metro to run more services. Many bus users are facing long wait times, which is affecting their daily schedule, while Metro riders are unhappy with its limited hours of operation.
BMTC has a fleet of more than 6,500 buses, including 860 Volvo ones. Currently, it has deployed around 4,000 buses, including 25 Volvos. Metro services are available only during peak hours (7am-11am and 3pm-6pm). Both operators follow the 50 per cent seating limit, meant to ensure social distancing, and other Covid-19 safety rules.
"I waited for a 342 series bus to go from Corporation Circle to Sarjapur Road. After 10 minutes, one bus arrived, but the conductor said that there was no seating space. I waited for another 10 minutes, but there was no bus. Finally, I took a cab," said Malini P, a commuter.
BMTC officials said that standees were not allowed on buses because of Covid restrictions. "At major bus stations like Majestic, we have a queue system. We are operating adequate buses to reduce crowding and waiting time. If there is a shortage of buses on any route, passengers can contact our helpline, 080-22483777," said a senior official. BMTC runs services between 6am and 7pm. On Thursday, its ridership was 9.3 lakh. In April, before the services were halted because of the second wave of Covid-19, the figure was around 25 lakh.
An official said that the high diesel price had increased the operational costs, which was one reason fewer buses were being operated. Shaheen Shasa of the Bengaluru Bus Prayanikara Vedike, an NGO, said that it had received several complaints from passengers. "Many are saying that a bus arrives only after 30 to 40 minutes. And often, it is fully occupied," she said, adding that high fuel cost should not be an excuse to run fewer services.
Shasa suggests that the state government should provide viability gap funding to BMTC to help it cope with losses. "Buses are critical for people and the economy to get back on their feet," she added.
Namma Metro users said that operators in other cities were running services for a long duration: in Delhi, 6am to midnight; Mumbai, 6am to 10pm; Chennai, 6.30am to 9pm; and Hyderabad, 7am to 9pm. "We understand that there is a curfew in Bengaluru between 7pm and 5am, but BMRCL could operate services from 6am to 6pm with social distancing norms," said Ramesh Kumar, a regular Metro rider.
On Thursday, Namma Metro's ridership was 50,333. Before the pandemic, it ferried commuters from 5am to midnight, and the daily ridership was around 5 lakh. "We are analysing the passenger demand and a suitable decision will be taken shortly on extending the operational hours," said BMRCL's chief public relations officer, BL Yeshwanth Chavan.
Meanwhile, there is a demand for MEMU train services between Bengaluru and Hosur. "At present, there is only one DEMU train, KSR Bengaluru-Dharmapuri. SWR should operate at least one MEMU train during peak hours between Bengaluru and Hosur," said rail enthusiast Abhishek R. MEMU trains will help those working on Outer Ring Road and in Sarjapur, Electronics City and Bommasandra.
FacebookTwitterLinkedinEMail