Bengaluru: Chaos outside malls as visitors struggle with vax certs for entry | Bengaluru News – Times of India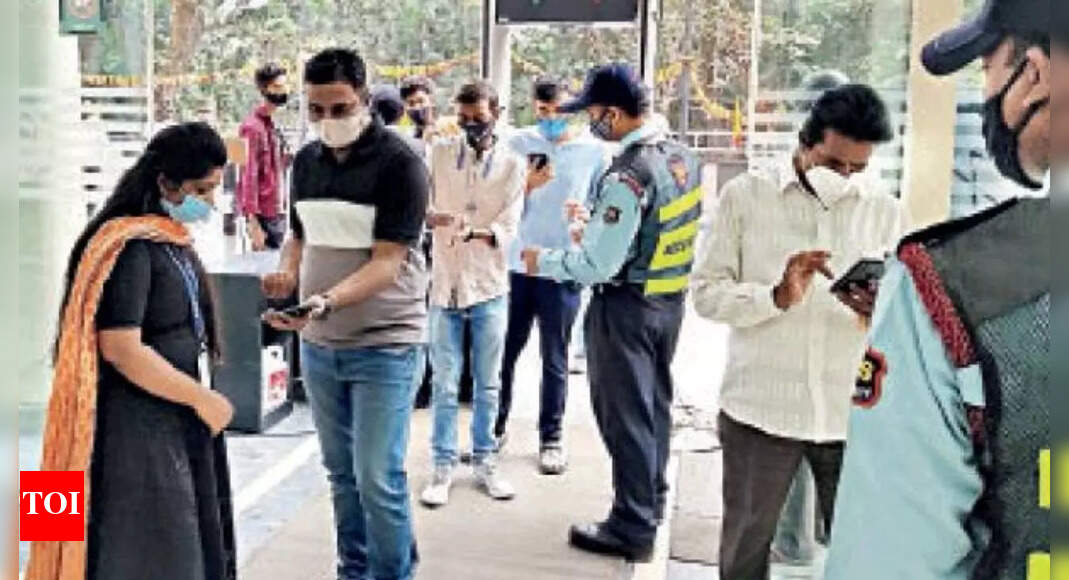 BENGALURU: For many Bengalureans, a favourite weekend activity is hanging out with friends and family members in shopping malls. But several citizens stared at long queues in front of the establishments on Saturday. Reason: Visitors were being checked for double vaccination certificates.
With the state government announcing that entry to malls and theatres should be granted only to double jabbed individuals, malls across the city saw lines of confused visitors struggling to produce their vaccine certificates. In some malls that STOI visited, verbal arguments were witnessed between shoppers and security guards who were stopping the latter to show proof of vaccination.
"Am I travelling internationally? When a majority of the elected representatives are moving around shamelessly with their masks down, why am I being forced to show the certificate? Should we stop coming to malls?" a visitor argued outside a mall while the guard tried to calm him down. He claimed though he had received both shots, it took him time to download the certificate.
The security personnel later told STOI that there are always some visitors who have issues. "It is a government mandate and we are doing it for their own safety. They hold up the queue and make it difficult for others," the guard said, announcing loudly to people to keep the certificate and an ID ready before their reach the entry. She said the long lines are because of the weekend crowd.
BBMP chief commissioner Gaurav Gupta, while explaining the decision to grant entry to the double vaccinated, stated: "The state government has implemented regulatory measures to prevent the spread of Covid-19 and its new variant Omicron. We request everyone to follow Covid protocol and safety precautions at all times."
Several visitors at a mall in Yeshwantpur, who were unaware of the regulatory measure, were surprised but quick to follow it. Krishnaprasad said it took him 15 minutes to download the certificate on his new phone. "This is for our own safety so I stepped aside, downloaded it and rejoined the queue," he said, adding he will share the details on his social media platforms so that people will know that a vaccine certificate is a must to enter shopping malls.
Confusion will abate; no impact on footfall: Establishments
Shopping malls in the city said that the confusion on the first day will subside as people will get to know about the measure. Manoj Singh, cluster director (Karnataka), Nexus Malls, said it took a little longer on Saturday for customers to enter the mall as they had to produce their vaccination certificates. However, it did not affect footfall as the vaccination rate in Karnataka is high.
"Most of the patrons are eligible to gain entry into malls as per the new advisory. We have also realised that people have been very self-aware. Malls are the only places which provide a controlled and hygienic shopping environment," Singh said.
Sunil Munshi, AVP, operations, Orion Malls by Brigade Group, said: "Since this is the first day, we have faced a few challenges in terms of queues as customers took some time to download the certificates on their mobile phones, but going forward as awareness spreads, we do not see this as a point of concern. We have put up notifications and made announcements at all entry points of our malls to inform our customers on the new Covid directive," he said explaining there has been no impact on footfall.