Bengaluru: BMRCL to crack down on dumping of garbage on Metro medians | Bengaluru News – Times of India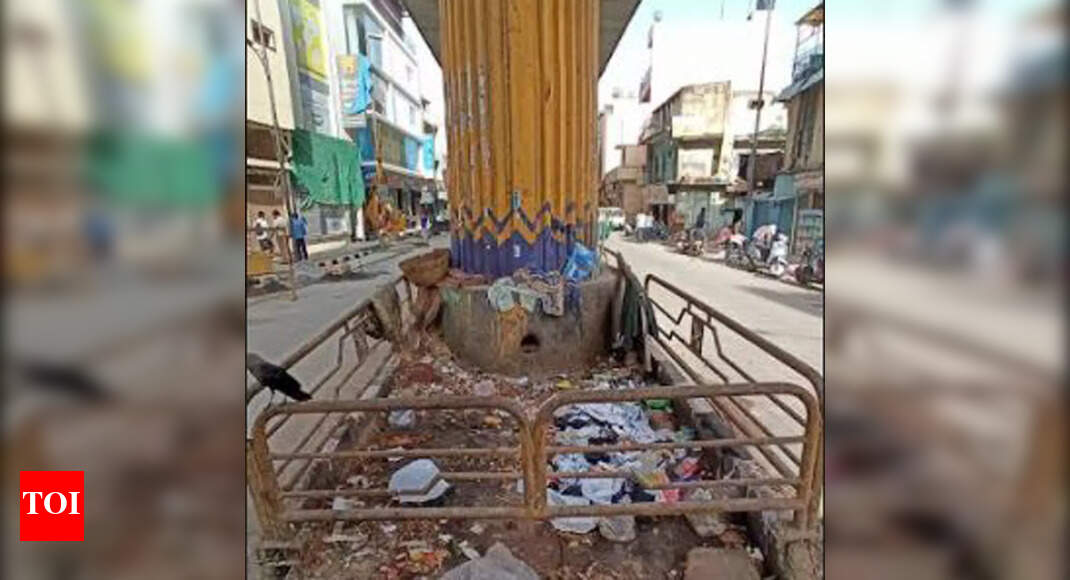 BENGALURU: To stop dumping of garbage on Metro medians, Bangalore Metro Rail Corporation Limited (BMRCL) is now identifying blackspots across the city. Medians beneath Namma Metro's elevated corridors along the Purple and Green lines are often used for dumping waste and debris.
As a pilot, BMRCL deployed security guards on CMH Road in Indiranagar. BL Yeshwanth Chavan, BMRCL chief public relations officer, said: "We have been identifying blackspots along Metro corridors. We deployed security guards on CMH Road to educate locals. We're now working with BBMP to clear garbage from these spots."
BMRCL has also warned of a fine of Rs 500 for those dumping garbage on medians. "It's a collective responsibility to keep our city clean. If they continue to dump garbage, then we'll collect fines from them," he said.
Vasanth Kumar, who stays near CMH Road, said: "Mainly, BBMP is littering this median. Either they should do door-to-door collection or provide bins to dump trash. Many commercial establishments are also dumping garbage here at night. We don't have any other open space to put waste so we are also dumping it here."
However, a BBMP official said: "This is a common issue on CMH Road towards Ulsoor side as adjoining slum settlements dump waste at night. If night collection of waste can be commenced here with an announcement system, it will have a huge impact."
In 2020, BMRCL signed MoUs with Sparsh Hospital and NGO United Way Bengaluru to beautify medians along both corridors. In fact, BMRCL installed metal barricades along the median of some sections.
At present, most medians are filled with garbage and construction debris, especially in areas like Indiranagar, JP Nagar, Ulsoor, Byappanahalli, Yelachenahalli, Peenya and Mysuru Road. While BBMP has been claiming the medians are BMRCL property, the Metro agency used to attribute the poor upkeep to limited resources.
In fact, BMRCL had earlier planned to outsource the maintenance of Metro medians to private firms, but the proposal evoked a tepid response after BBMP's ban on advertisements. Some companies had said they are not in a position to take up maintenance without advertising revenue. The maintenance work includes watering and pruning of saplings and cleaning the area.
In March 2015, Bangalore Political Action Committee (BPac) filed a complaint with the Lokayukta, submitting 700 photographs of debris and garbage along Metro medians and near stations.