Bengaluru: 60-year-old 3-storey building comes crashing down, no casualties | Bengaluru News – Times of India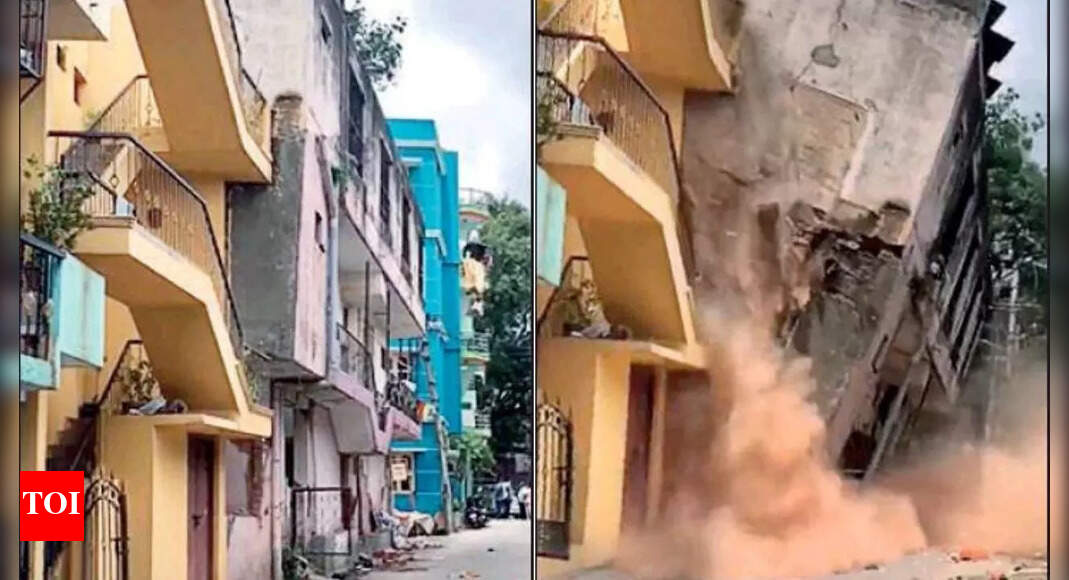 BENGALURU: A three-storey building in Lakkasandra near Wilson Garden, which had developed cracks on its walls, collapsed on Monday morning. There were no casualties as all the occupants had moved out hours earlier.
The crashing structure on 7th Main Road however caused damages to adjacent buildings.
Police said the building was 60 years old and structurally unsafe. It was home to labourers working at a Namma Metro underground site nearby.
In the morning, most of them vacated the building on seeing cracks in the basement and hearing cracking noises.
A few of those remaining alerted the neighbours about their fears that the building could bite the dust. Soon, the neighbours reached out to the building owner's son, Suresh, and requested him to demolish the building, but it was ignored.
"We received a call at 10.55am and rushed to the spot," said an official from the fire and emergency services control.
Adugodi police also reached the spot and evacuated the residents in the neighbouring houses. The building collapsed at11.30am.
"Recently a few labourers from Namma Metro had requested Suresh to allow them to stay in the building. We called Suresh, who said he would come. But later his phone was switched off," the officer said.
A Bangalore Metro Rail Corporation spokesperson said 22 labourers working on one of its underground stretches lived in the building. "Cracks were seen in the basement and the labourers were immediately shifted from the building. No labourer belonging to Metro works was injured," the spokesperson said.
"Despite knowing the condition of the building, the owner, Rathnamma, had rented it out to Metro labourers. Due to the collapse of the building, adjacent buildings have been damaged and caused inconvenience to the locals. We're initiating legal action against the owner," a BBMP official told TOI.