Bengaluru: 2000 trees axed before High Court's intervention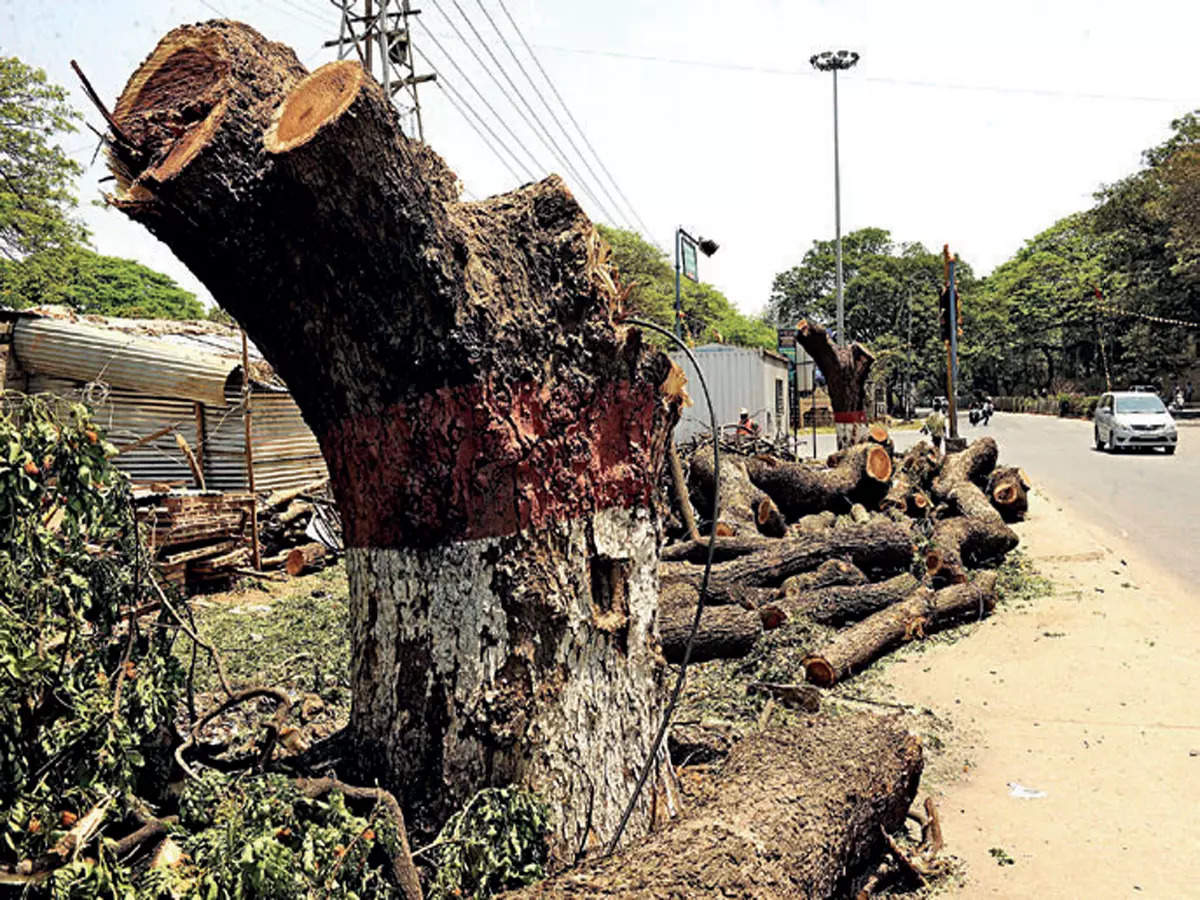 2,000 trees axed before high court intervention

The
forest department
has given the go ahead for felling and
translocating trees
in the suburbs for
road-widening
, according to officials.
Weeks after the high court accepted the reassessment report submitted by a committee of experts from the University of Agricultural Sciences, Bengaluru, the Karnataka Road Development Corporation Ltd (KRDCL) is now planning to resume road widening works in the city's periphery.
"The 155-km of road widening project was put on hold for more than a year due to tree clearances. After the court approved the GKVK report, we sought the approvals of the forest department. Two of the three DCFs (deputy conservator of forests) have given the green signal," a senior KRDCL official said.



The committee had geo-tagged all the trees that were marked for felling, retention on site and translocation. "Even the place where the trees will be translocated will also be geo-tagged as per the directions of the court," the officer explained. "We will resume construction activity in a couple of months."
The outright felling of trees by the KRDCL following a discreet permission from the forest department had attracted a huge public outcry not long ago.
The corporation had initially proposed axing 8,561 trees but the number of trees affected by the project was brought down to 5,297. Of these, the KRDCL had already axed nearly 2,000 trees much before the high court's intervention.
The GKVK reports

Of the ten works that the KRDCL has proposed with respect to developing roads in the city's periphery, only two GKVK reports pertaining to two works are in the public domain. The committee has approved felling of 24 trees and transplanting of 62 trees on the Nelamangala–Madhure stretch. What can be noted is that the KRDCL had axed as many as 977 trees before the high court's order.
In the second GKVK report, with regard to the construction of the road from Anekal to Hoskote via Attibele, Sarjapura and Whitefield, the committee has approved axing of as many as 629 trees and translocation of 335 trees.
The number of trees that will be affected in the remaining eight projects – as per the GKVK reassessment report – is not known.

Meanwhile, some citizens were of the view that the KRDCL did not follow the due process while taking up projects that are affecting a large number of trees.
Rajani Santhosh, a resident of Jayanagar, said KRDCL, at the least, should have undertaken a comprehensive environment impact assessment (EIA) study. "The KRDCL has not obtained statutory environment clearances for constructing the roads in places that are highly sensitive from an ecological perspective," she said.