Bengalruru: Water tankers get stuck in Varthur's slushy track | Bengaluru News – Times of India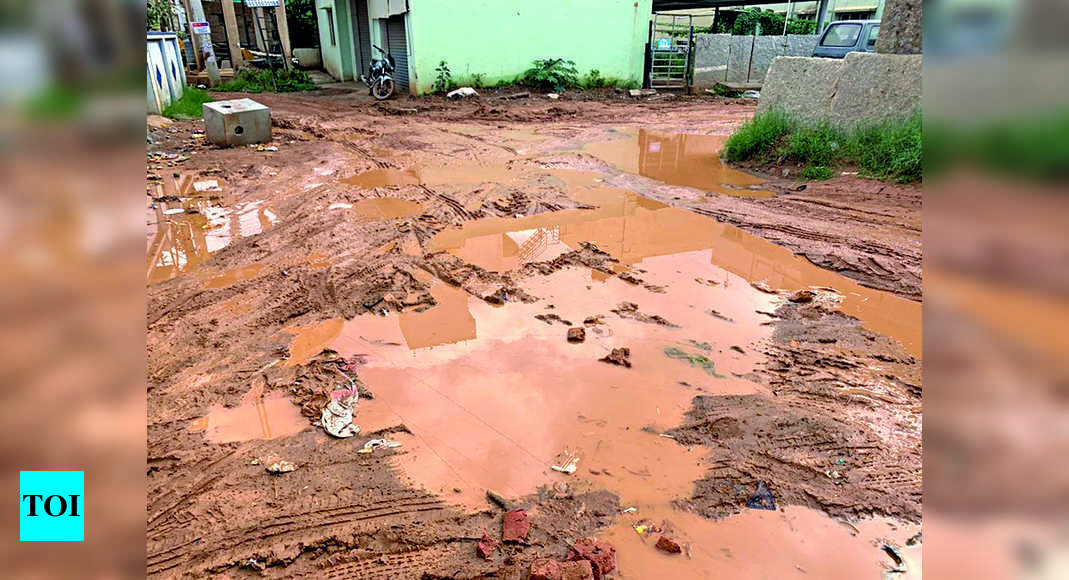 BENGALURU: Residents of Channaraya Swamy Temple Street, Varthur, went without piped water supply for decades but they never complained. But the poor state of the one-and-a-half-km stretch has now brought residents to their knees as water tankers they rely on are finding it difficult to move through the dirt track that the road has become.
Residents have been requesting Bruhat Bengaluru Mahanagara Palike and Bengaluru Water Sewerage and Supply Board to fix the stretch, but in vain. "There is not a single drop of water here. We neither have borewells nor Cauvery water connection," said Javeed Pasha, a resident.
The road is home to around 100 families which are largely dependent on tankers. On an average, about 30 tankers commute daily, each carrying 4,000 litres of water.
Trouble started when utilities like BWSSB and Bescom dug up the road to lay pipelines. With soil filled up in trenches loosening up, the road turns into a swamp of sorts once it rains. "Tanker drivers have started complaining and are not able to supply water to us because of the poor condition of the road," he added.
Gurumurthy Reddy, a tanker owner, said he is now forced to tow vehicles. "The wheels of our vehicles sink into the road. Half of the tanker's contents are then transferred to another empty one, which is towed to supply water to residents. The same tanker comes back and takes the rest of the water for supply again," he added.
The process is not only tedious but expensive, rue the owners. "Tanker owners around Varthur are requesting BBMP to at least ensure the road has an even surface if they can't asphalt it," Reddy told TOI. The poor state has forced residents to park their vehicles at least 1.5km away from the mucky street and walk barefoot to their homes. K Nagarathna, another resident, said many times, she has tripped on the slushy road. "I'm scared to step out of the house now," she said.
"While BWSSB just finished underground drainage work, Bescom is still at it. They had to put a wet mix and give it to us, but failed to do so. In a week, we will fix the road to enable easy commute," said a BBMP official.