Bangalore Metropolitan Transport Corporation scraps cashless travel facility; passengers in lurch | Bengaluru News – Times of India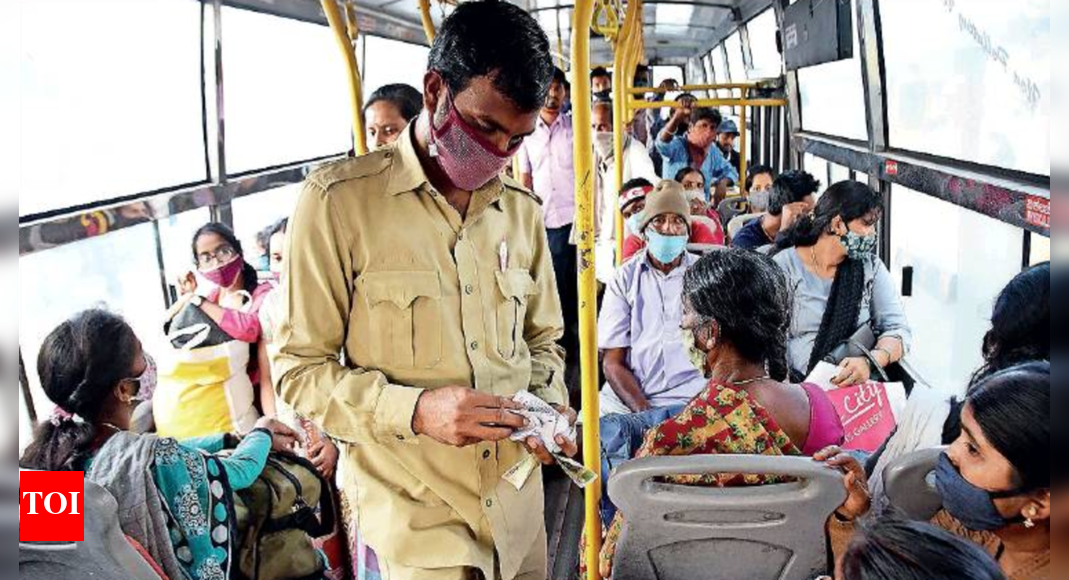 BENGALURU: Bangalore Metropolitan Transport Corporation (BMTC) has quietly discontinued its QR-based contactless and cashless travel facility which was launched in all buses in May 2020 as a safety measure against Covid-19.
There was massive demand for the system even before the pandemic hit, but the state-run corporation appeared reluctant to introduce it. Around 6,000 passengers were using the digital payment mode daily when the ridership was around 15 lakh. Now, the ridership has jumped to 20 lakh and the pandemic is still around, but BMTC has discreetly abandoned the cashless travel system.
Besides making ticketing contactless, and therefore limiting the spread of the virus, passengers say the system also addressed the change problem. Over the years, there have been several instances of conductors and passengers fighting over change. Some conductors even refuse to tender change, pocketing it instead.
"When even neighbourhood tender coconut vendors are accepting digital payments, why is BMTC shying away from it?" said Anusha S, a regular commuter. "After demonetisation, cashless transactions have increased across the country, but BMTC is still allergic to it, even with the pandemic around. BMTC's ridership is falling because of this."
A senior BMTC official said they roped-in two banks — Axis bank and Canara bank — for the QR-based ticketing system.
"There were some cases of payments not being credited to BMTC's account while tickets were issued," said the official. "In such cases, the fare is deducted from the conductor's salary so many of them don't want to encourage digital transactions. For roadside vendors, it is easy to install speakers, so the vendor knows when payment is made, but there are difficulties in crowded buses. We need to map the mobile number of each conductor so s/he will get a message when payment is made."
Under the contactless system introduced last year, passengers could use UPI apps such as Google Pay, PhonePe and Paytm to pay fares. Each bus has a different QR-code. Once a commuter scans the code and enters the amount and PIN, the money is deducted from his/her bank account. Once payment is made, the conductor issues the ticket.
NCMC
card by November
While the One Nation One Card (NCMC) was launched nationwide in March 2019 to facilitate single-card usage across transport modes, Bengaluru hasn't implemented it. In 2016, BMTC along with Axis Bank launched an open loop smart card but that too was marred by technical glitches.
Namma Metro officials say they have installed automatic fare collection (AFC) gates at all stations which accept NCMC cards and QR-code based ticketing and commuters can buy tickets using mobile phones. All Phase 2 stations already have NCMC and QRcode-compliant AFC gates. Officials said BMRCL plans to launch a new NCMC card in November. However, it has missed a series of deadlines. At present, BMRCL has a closedloop card which can be used only for Metro travel.
V Anbu Kumar, who took charge as managing director, BMTC in September, said: "I'm unaware why QR-based based cashless system was discontinued in BMTC, but I will look into it. We will get advanced electronic ticketing machines (ETMs) which accept open-loop NCMC cards as well as facilitate QR code-based ticketing by February 2022. But it will not accept Namma Metro's NCMC card immediately. We will integrate it in the future."