Bangalore Flood: Four lakes in north Bengaluru overflow, flood adjacent areas | Bengaluru News – Times of India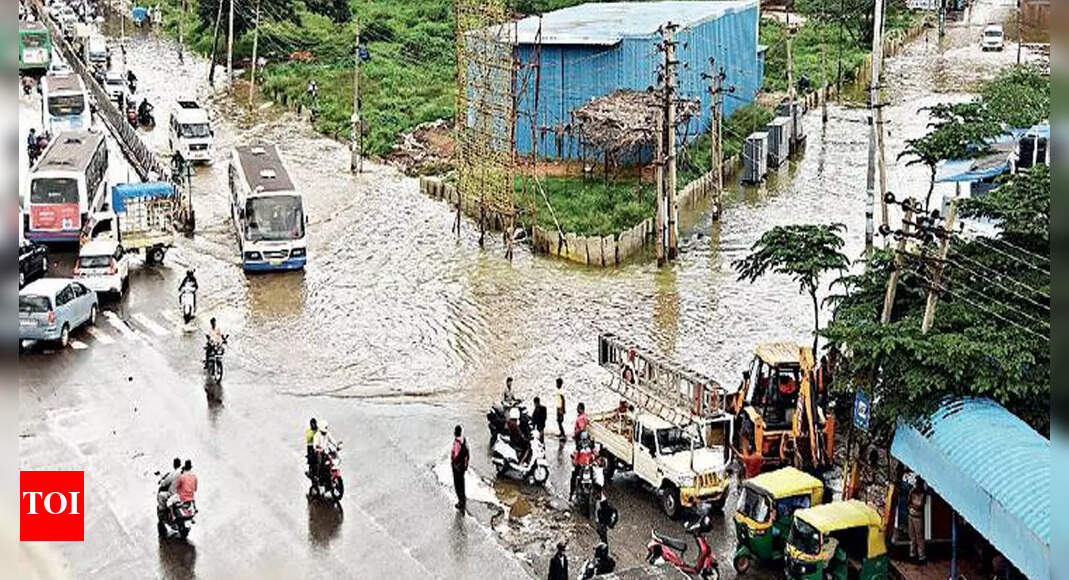 BENGALURU: Sunday night's downpour caused lakes in Yelahanka, Allalasandra, Jakkur and Singapura in north Bengaluru to overflow and flood adjacent residential pockets, thanks to the city's unplanned growth and the resultant impact on its stormwater drain network.
Kendriya Vihar in Yelahanka, which houses families of hundreds of central government employees, was fully flooded, as neighbouring Yelahanka Lake overflowed. The apartment complex had water up to four feet.
Rajendran SV, division warden, civil defence, Yelahanka said, "Kendriya Vihar has been waterlogged for close to three days now. But Sunday night's heavy rain led to a stormwater drain and Yelahanka lake overflowing and flooding the apartment."
While several two-wheelers could be seen floating around, many cars too were damaged. "The building has about 603 flats spread across eight blocks. Most of the people residing here are senior citizens and they needed our help as the lifts weren't functioning due to power failure. We had to use inflatable boats to rescue them and managed to bring out close to 200 people from the apartment," Rajendran added.
Rajendran and his team of around 30 members were at Kendriya Vihar since 8pm on Sunday. "Considering the building was waterlogged for nearly three days, residents hadn't been able to step out. We managed to distribute food packets and asked them not to panic," he said.
National Disaster Response Force and fire brigade personnel were also part of the rescue operation. BBMP chief commissioner Gaurav Gupta, who visited Yelahanka on Monday, said, "Our response team and all other relief squads were on their toes attending to all kinds of complaints. We have assured those residing at Kendriya Vihar that there is nothing to worry about and we will ensure they get supplies…"
Jakkur Lake overflowed and flooded JNCASR (Jawaharlal Nehru Centre for Advanced Scientific Research) campus closeby. Sanjeev Dyamannavar, a resident of Jakkur, said: "The lakes upstream of Jakkur Lake are Puttenahalli and Yelahanka. Once these are filled, water flow into Jakkur Lake increases. These three lakes are fed by water from STPs, which means that they are 70-80% full most of the times." When there is rain, the remaining 20% gets filled up, flooding adjacent areas.
Water, however, only entered basements in Jakkur and not the houses. "This area mostly has apartments. The basements were flooded causing damage to vehicles, but water didn't enter the houses," Sanjeev added.
Singapura Lake near Jalahalli too overflowed due to the downpour. H Mohan, a resident of Singapura, said, "Water had been slowly flowing out of Singapura Lake, which is spread over 66 acres. After Sunday's showers, it overflowed massively."
Up to two feet of water was seen on Singapura roads. Though not houses, some basements got flooded and the water had to be pumped out. Youngsters from the neighbourhood were seen catching fish from the runoff water.
Such was the outflow of water from the lake that even the adjacent Simhadri Layout got flooded, pealing off road asphalt. "The stormwater drain that carries water from Singapura to the lake downstream was blocked and caused the water to overflow on to the road. The lake was full following heavy showers," Mohan added.