Authorities in Karnataka struggle as 7 lakh workers queue up to go back | Bengaluru News – Times of India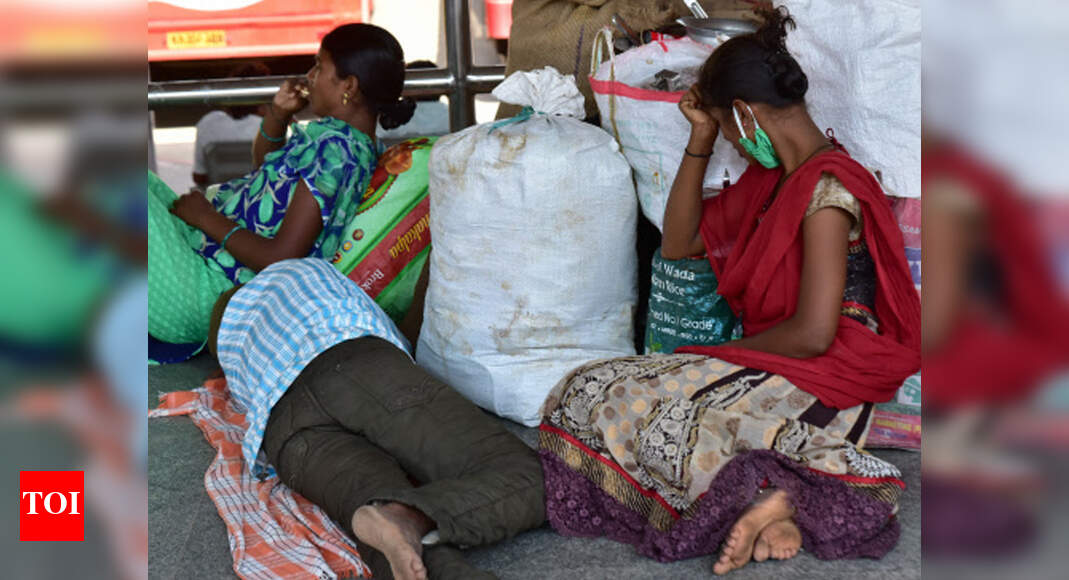 Migrants worker from Andhra Pradesh at Majestic bus terminal on Sunday
BENGALURU: The chaotic scenes on Saturday at Palace Grounds in Bengaluru when stranded migrants scrambled to get a seat on a train heading home could be a preview of worse to follow. Around 7 lakh more people have registered to go home over the next week, but 90% of their applications are awaiting clearance from the authorities.
At least 30 nodal officers who have been appointed to handle 15 states based on their knowledge of that state language are flooded with calls, text and WhatsApp messages by migrant workers reaching out with an emotional plea for help. The officers face the tough task of coordinating with their counterparts in other states, local administrations, police and making arrangements for migrants.
The state government has requested the railways for 52 Shramik trains over the next week. Of these, 31 trains will ply to Bihar and carry 45,000 migrants. The trains, which began operations on May 24, will run till May 31.
5 trains from B'luru to Bihar every day
Five trains are scheduled every day to Bihar, which has the highest migrant population in Karnataka.
Referring to Saturday's chaos, revenue department secretary and migrant workers co-ordinator N Manjunath Prasad said, "While our nodal officers sent messages to only migrants from Manipur, they spread like wildfire to those belonging to Odisha whose train was scheduled only at a later hour."
Some officials believe the Saturday fiasco is an exception. "Though the initial days were tough due to the huge number of requests to go home, there is now a system in place," said Anjum Parvez, nodal officer for Bihar.
Seva Sindhu revamped
The Seva Sindu registration and government intimation processes are being changed. "Our problem has been the intimation process to migrants for going to a specified place. Every migrant will now be given a unique ID in their message which will be crossreferenced by police with the migrant's mobile number. She needs to show the unique ID number to board the train," said Manjunath Prasad.