Among Metros, motorists in Bengaluru pay less for fuel; dealers allege diesel smuggling to neighbouring states | Bengaluru News – Times of India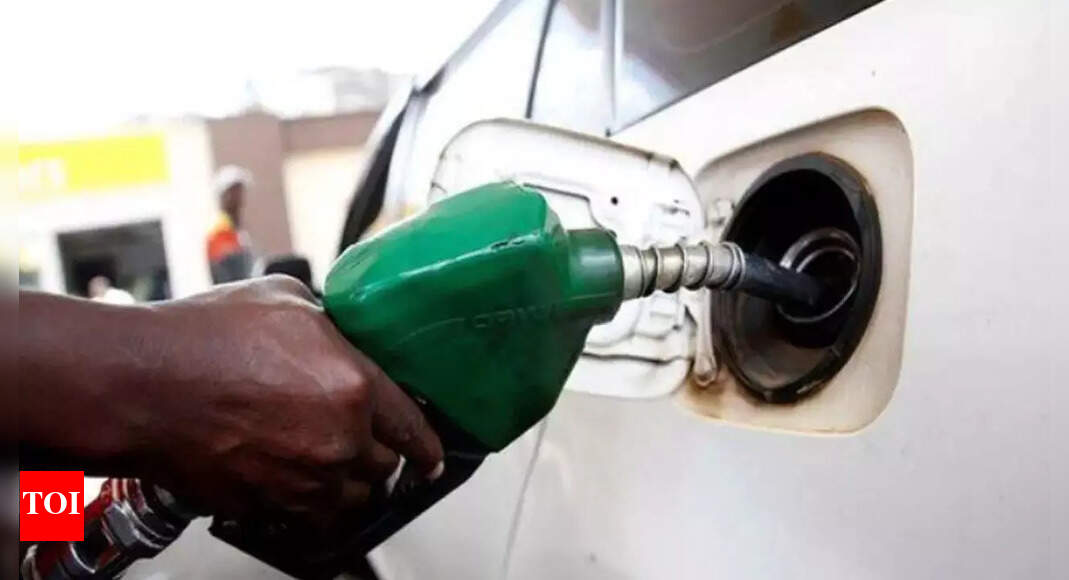 BENGALURU: Motorists in Bengaluru are paying less for fuel among the Metro cities in the country since Thursday night. This is also probably the first time that fuel rates in Bengaluru are lower than those in New Delhi.
On Saturday, a litre of petrol was sold in Bengaluru at Rs 100.58 and diesel at Rs 85.01. While Mumbai has the highest petrol rate among the major cities, Hyderabad motorists pay the maximum for diesel.
Petrol rates in other cities as on Saturday were: Chennai (Rs 101.40), New Delhi (Rs 103.97), Kolkata (Rs 104.67), Hyderabad (Rs 108.20) and Mumbai (Rs 109.98). Diesel price in Bengaluru is lower than New Delhi (Rs 86.67), Kolkata (Rs 89.79), Chennai (Rs 91.53), Mumbai (Rs 94.14) and Hyderabad (Rs 94.62) as on Saturday.
KM Basavegowda, president, Akhila Karnataka Federation of Petroleum Traders, said: "There is no major difference in petrol prices in Karnataka and Tamil Nadu. It is because TN CM MK Stalin in August 2021 reduced petrol price by Rs 3 per litre."
Sales go northward
Sources said the steep difference in the diesel price in Karnataka and neighbouring states has resulted in smuggling especially from places like Anekal, Dakshina Kannada, Belagavi, Kolar, Bidar, Kalaburagi, Chamarajanagar and Raichur.
"Diesel is Rs 10 per litre cheaper in Karnataka than Andhra Pradesh. People from places like Chittoor in AP and Krishnagiri in TN are coming to Kolar. People from Hosur are visiting Anekal to smuggle diesel in large cans and sell it in those states. They are transporting upto 100 litre diesel on cycles, 200 litre in mopeds and 500 litre in auto rickshaws through borders. Even if they sell it for Rs 5 per litre less, they will make money in thousands a day," Basavegowda said.
He said sales of diesel have also gone up. "Many inter-state truckers and inter-city buses are filling diesel from Karnataka. Trucks have a fuel capacity of 400-800 litre. In addition to this, they buy extra in large cans," he added.
The Centre on Wednesday evening slashed excise duty on petrol and diesel by Rs 5 and Rs 10, respectively, which came into effect from Thursday early morning. Karnataka government's Rs 7 per litre cut in the state tax on fuels was implemented at 6pm on Thursday.
On Wednesday night, chief minister Basavaraj Bommai had tweeted: "Though it will mean a loss of Rs 2,100 crore to our exchequer, it will bring down the prices for our citizens to Rs 95.90 & Rs 81.50 (approx.) for petrol and diesel respectively". However, many dealers disputed it, saying the fuel will cost more. Saturday's rate in Bengaluru is Rs 4.68 and Rs 3.51 more per litre for petrol and diesel than the CM's estimates.
Meanwhile, the Union ministry of petroleum & natural gas stated 22 states/UTs have reduced state tax on petrol and diesel. "The most reduction in the petrol prices has been in Ladakh, followed by Karnataka and Puducherry. The prices of petrol in these UTs/states have come down by Rs 13.43, Rs 13.35 and Rs 12.85, respectively. For diesel, the most reduction has been undertaken by Ladakh, leading to price coming down by Rs 19.61 per litre there, followed by Karnataka (Rs 19.49) and Puducherry (Rs 19.08)," it said.
Petrol customers feel the pinch
With petrol price at Rs 100.58/litre even after the revision, the poor and the middle-class who are dependent on two-wheelers for commuting are bearing the brunt.
"The CM had announced that petrol will cost Rs 95.90/litre but it is still at Rs 100.58. It's better to reduce petrol prices further to help the common man," said Avinash S, a motorist in Koramangala.
B Channa Reddy of the Federation of Karnataka Lorry Owners Association said: "It's difficult to say whether prices of essential items will come down after the reduction of diesel prices. It is purely based on demand-supply. The government should further reduce petrol prices so the spending power of people will increase."
The city is home to over 1 crore vehicles, of which 70 lakh are two-wheelers. Bengaluru has the second highest number of two-wheelers in India after New Delhi. Experts attribute the two-wheeler count mainly to the poor and unreliable public transport system, traffic snarls, inadequate parking facilities, price and fuel efficiency (better than cars) and availability of vehicle loans. Two-wheelers are easily manoeuvrable in dense traffic. Oil industry sources said two-wheelers are the biggest consumers of petrol in the city, followed by cars. The price hike mainly affected delivery personnel and others.