ALL SET FOR UNLOCK 3.0: Ambiguity no bar for restaurants that are dying to open doors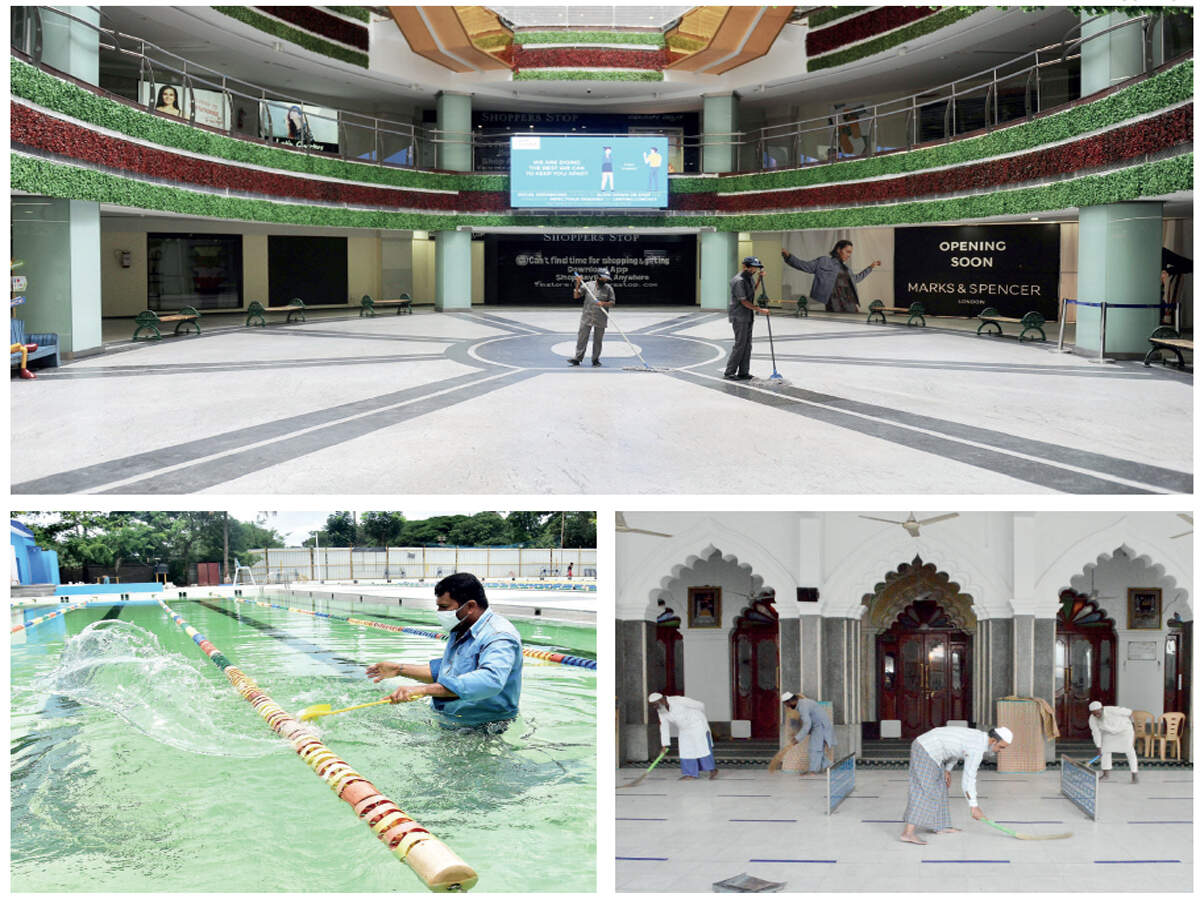 Most eateries are prepared with covid norms in place, owners point to lack of clarity in unlock orders

For many
restaurants
and hotels, Covid's second wave has meant a permanent shutdown. The ones that have survived are hopeful that the customers will start stepping out soon. A few restaurants have started dishing out offers, be it a discount on food bill or complimentary drinks and dishes, particularly to those who have got vaccine shots.
Several restaurant owners told Bangalore Mirror about the ambiguity over whether they are allowed to sell liquor at their outlets from Monday. There was no clarity on the timings too. Some said they are waiting for an official communication from the excise department. On Saturday, the government announced that the pubs — that operate under retail vending bars (RVB) license — will be closed but added that the restaurants will be allowed to provide dine-in services. The order did not mention the sale of liquor. Official sources said the department would issue a detailed clarification on Monday morning.
"We were not sure of calling back all our employees as there was some ambiguity about the sale of liquor," Chethan Hegde, founder of 1522 SuzyQ, said. He owns a chain of eight outlets in the City. "We are gearing up to welcome our customers. All our staff is fully vaccinated," he said. Arun George, director and co-founder of Toit, said they have been ensuring all covid safety measures are in place. "We had take-away service in the last two months but the response was not good as the service was available only in the morning," he said.

We got no support on licence fee waiver. Our fixed cost has not come down. In these times, the industry can't face lack of clarity in govt orders
–Amit Roy, owner of Watson's
Some restaurants are doling out offers to attract vaccinated customers. Amit Ahuja, who runs The Open Box and Misu, said they would be providing one dish complementary if the group has at least one person who has taken the first dose of vaccine. "The ones who have got both the shots will get two dishes complementary," he said. "We felt this is the best way to promote vaccination."
A majority of the restaurants have put in place spaced-out seating arrangements, digital menus and cashless payment system. Some may also insist on contact details of the customers at the entrance.
Amit Roy, owner of Watson's, also pointed to the lack of clarity in the order. "We cannot afford to bring back employees in flights only to find that the liquor service is not allowed. We are checking with officials but they are yet to get back to us," he said. He also said they are considering offering discounts on bills to the ones who have got the vaccine shots.
**********************************************************************************************
QR code-based payment option in BMTC buses
The Bengaluru Metropolitan Transport Corporation (BMTC), which plans to operate 4,500 buses in and around the City from Monday, has provided QR Code based ticket purchasing facility in all its buses. This is likely to help commuters who prefer to use public transport by paying cash for ticket without coming in contact with conductors.
The BMTC will provide services between 5 am and 9 pm. If all seats are occupied, passengers will not be allowed to board the bus.
Metro services extended
Namma Metro has decided to extend its services from 7 am to 8 pm on all days including weekends, after the state government lifted weekend curfews. Officials have promised to run trains at a frequency of 5 minutes to 15 minutes during peak and non-peak hours from Monday to Friday and with increased or decreased frequency on Saturday, Sunday depending on the patronage. "Commuters are requested to follow covid appropriate behaviour," the press release stated.
***************************************************************************************************

Establishments devise a device way
Many hotels, restaurants and other outlets have started installing a virus attenuating device. Dr. R Ravichandar, chairman of Nandhana Palace, said that they installed the device, Shycocan, at all their 15 branches about 14 days ago. He said, "The device seems to be effective. We have installed one in each floor which keeps rotating and covers the entire space. Each device costs about Rs. 20,000 and we installed 20. All of our staff are vaccinated."
Umesh, Director – Human Resource, The Himalaya drug company, said, they have installed the devices inside their manufacturing factory and at the offices, including cafeterias.
"We gave first preference to the production centre and started installing the devices in October 2020. So far, wherever we have installed the device, we have not seen a mass spread of covid-19. We have installed about 80 of such devices so far," he said.