After 2 months, public transport users rejoice in Bengaluru | Bengaluru News – Times of India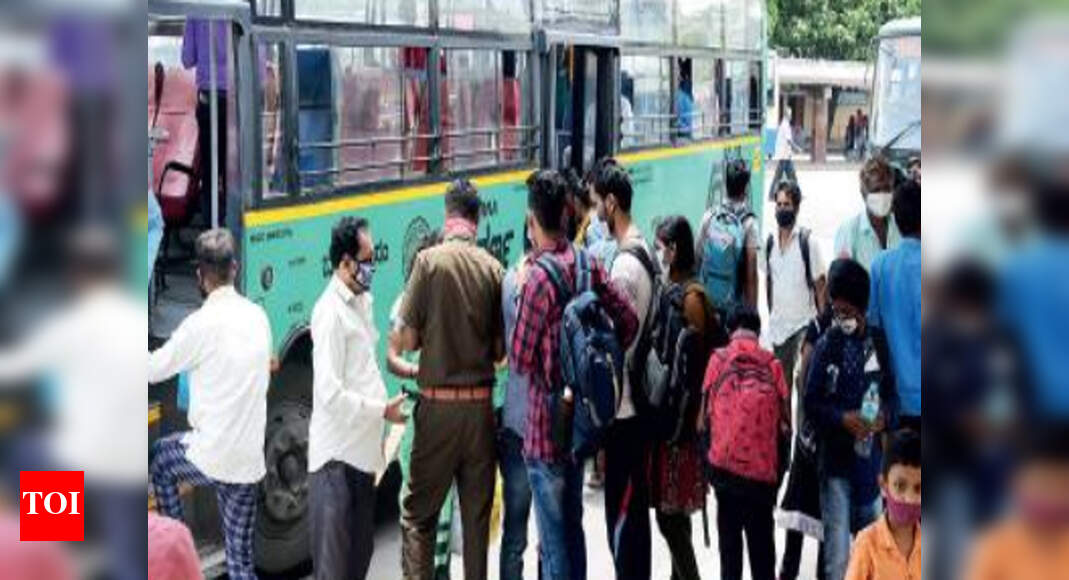 BENGALURU: Commuters across the city heaved a sigh of relief after public transport services, including BMTC and Namma Metro, restarted after two months.
KSRTC too resumed intra-state operations, except in Mysuru and Dakshina Kannada districts. Transport services in the state were suspended from April 27 to June 20.
On Monday, BMTC operated 3,154 buses between 6 am and 7 pm. Chaos prevailed at bus terminuses like Majestic in the morning due to shortage of buses. Many passengers were seen fighting for seats at the bus station after arrival of morning trains at KSR Bengaluru City railway station. BMTC's Sarathi vehicle was making announcements asking people to follow Covid protocols.
"If BMTC wants to run buses at 50% capacity, it should operate more. Why can't it deploy all its buses from 7 am-11 am and 3 pm-6 pm? It's unfair to force passengers to wait till the next one arrives," said K Ravikumar, who wanted to reach Bannerghatta Road.
Sources said BMTC's decision to allow only fully inoculated staff led to a shortage of buses in the morning. "Employees who received the first dose were asked to submit a negative RT-PCR report. But many could not submit it on time so they couldn't report for duty…" said a source. BMTC managing director C Shikha said: "There were more passengers in the morning since many inter-city buses and trains arrived at almost the same time. Our night schedules were affected due to the curfew on Sunday. But the crowd was less during the evening. We have decided to operate more buses during peak hours."
Many passengers were relieved. "I can't afford to take an auto every day. I used to walk after work. Now, I'm now using the April pass. Resumption of bus services is a blessing for those who don't own vehicles," said Vijayamma, who works as a domestic help in Malleswaram.
QR-code based digital ticketing facility was provided in all buses for cashless payments.
Few takers for Metro on Day 1:
Many Metro coaches remained empty on the first day of Unlock 2.0. BMRCL operated trains from 7 am-11 am and 3 pm-6 pm at a frequency of five minutes, and saw ridership of around 24,602. Sources attributed this to most office-goers still working from home. Another reason for the poor patronage was that only smart-card users were allowed to use the service.
"I feel Metro is safer than other modes since they screen passengers. But they should allow tokens since smart-card based travel is expensive," said Ramesh Kumar, who was heading to Vijayanagar.
Officials said the ridership is expected to improve. Thermal scanning, hand sanitisation, mask rule and social distancing were followed. BMRCL MD Rakesh Singh and other officials rode Metro from MG Road to Vidhana Metro station.