Accident in KIA Expressway: Cab topples, 9 hurt in serial accident on KIA expressway | Bengaluru News – Times of India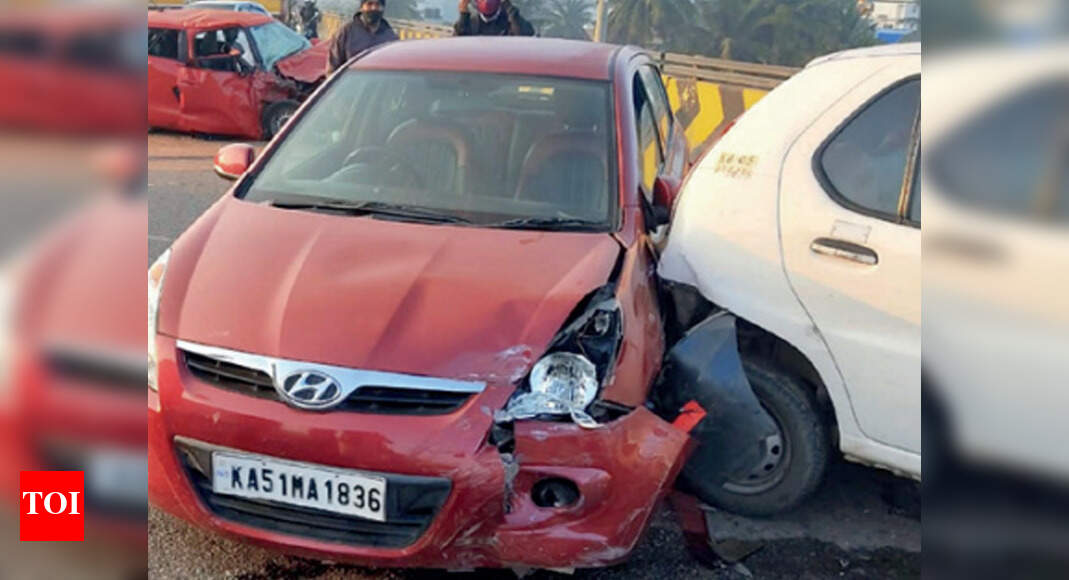 The vehicles involved in the Sunday-morning accident
BENGALURU: Nine persons, including four women, sustained injuries in a serial accident involving three private cars and a cab on Kempegowda International Airport elevated expressway on Sunday morning. Five of the injured were treated as outpatients, while four have been admitted to a private hospital.
The accident occurred at Kodigehalli bypass at 7.15am. "The driver, who was heading to the city, lost control of the cab. The vehicle jumped the median and toppled. Three cars, heading towards the airport, rammed each other while trying to avoid hitting the cab," traffic police said.
Traffic was disrupted for over 30 minutes as police had to shift the injured to hospital and then clear the mangled vehicles. A crane was used to lift and shift three of the cars, which were blocking the road.
Occupants of the three cars, heading towards the airport, sustained injuries, while the cab driver is being treated for hairline fractures on his hand and legs. "The cab driver was driving at around 100kmph. He must have dozed off," an officer said.
FacebookTwitterLinkedinEMail