10 biggies in Bengaluru prison; officials say safety only concern | Bengaluru News – Times of India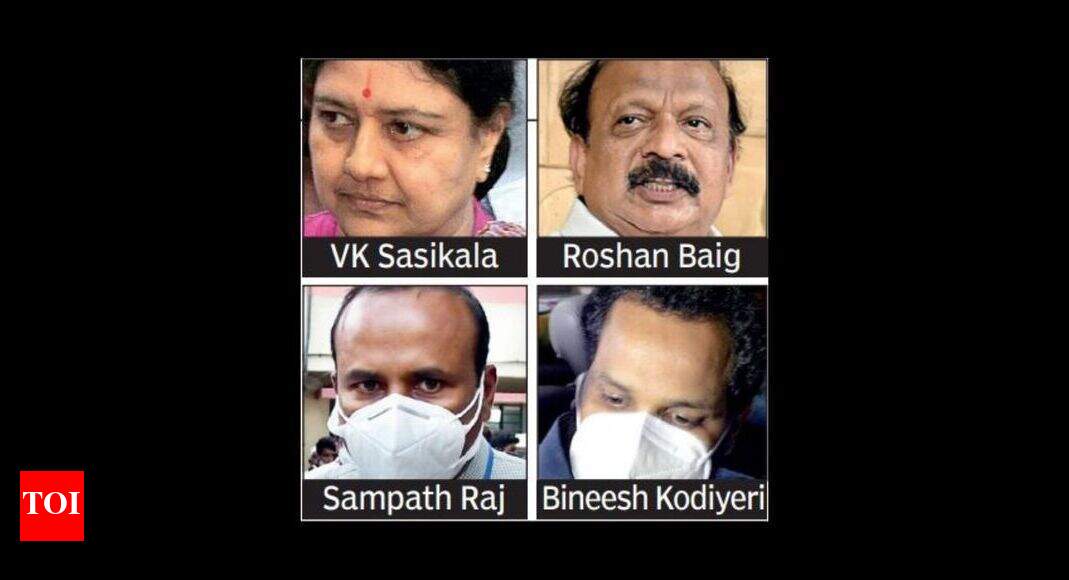 BENGALURU: Central Prison, Bengaluru is now home to at least 10 high-profile persons from all walks of life: politics, showbiz and the underworld. Prison officials, however, say the inmates' celebrity status comes into picture only because of security aspects.
Former minister Roshan Baig, arrested in the IMA multicrore Ponzi scam, was the latest biggie to arrive at the jail on Sunday. He joined his former party colleague, Congressman and ex- mayor R Sampath Raj, who has been arrested for allegedly fomenting riots in east Bengaluru on August 11.
However, another politician VK Sasikala is serving the final days of her four-year imprisonment in a disproportionate assets case and is expected to be released next month. Her relative J Ilavarasi and former Tamil Nadu chief minister J Jayalalithaa's foster son Sudhakaran are her fellow convicts in prison.
Sandalwood actors Ragini Dwivedi and Sanjjanaa Galrani and socialite Viren Khanna, all arrested in a drug-peddling case, underworld don Ravi Pujari, who was extradited from Senegal and is facing many criminal cases, and Bineesh Kodiyeri, son of former Kerala CPI(M) secretary Kodiyeri Balakrishnan, arrested in a money-laundering case, are the others on the rich-and-famous list.
Treated like everyone else
Prison officials say they treat these big names like any other inmate, but only pay more attention to their security aspects. However, the alleged special treatment meted out to Sasikala a couple of years ago had stirred a huge controversy and also resulted in a high-level official inquiry against senior jail officials. Sasikala and Ilavarasi are lodged in the VIP cells of the women's barracks, while Sudhakaran is in a VIP cell for men.
Actors Ragini and Sanjjanaa are lodged in the women's cell located in the same barrack where Sasikala and Ilavarasi are staying.
Other than senior prison officials, no one, including junior prison employees, is allowed to roam around these barracks. However, the rule does not apply to trollies carrying breakfast and meals to the barracks.
Viren Khanna and Bineesh Kodiyeri are lodged in general barracks with around 25 other undertrial prisoners arrested in different cases, including for cheating, forgery and economic offences. Khanna and the other men arrested in the drug-peddling case have been deliberately kept in different barracks.
Baig and Raj, now the corporator of DJ Halli, are spending time in the hospital ward and may be shifted to separate cells by end of this week.
Asked about food arrangement for these well-known names, prison officials said, "Trollies carrying food to others visit their barracks too. Sometimes, these people buy noodles, eggs, bread and other items from the canteen."