xbox series s: Xbox‌ ‌Series‌ ‌S‌ ‌console‌ ‌to‌ ‌launch‌ ‌on‌ ‌November‌ ‌10:‌ ‌Everything‌ ‌you‌ ‌need‌ ‌to‌ ‌know‌ ‌ – Times of India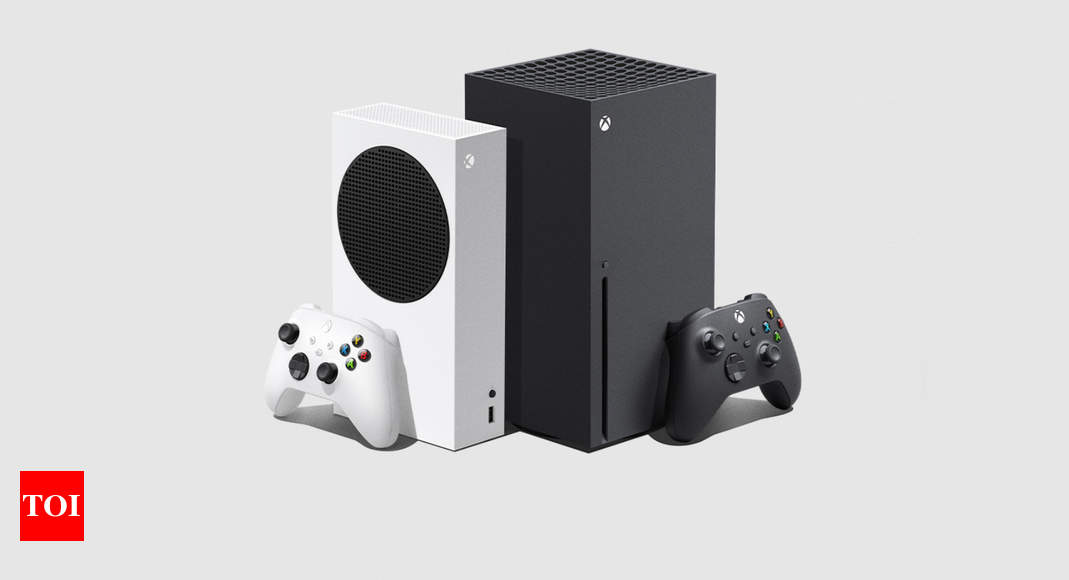 Microsoft‌ ‌recently‌ ‌announced‌ ‌the‌ ‌launch‌ ‌date‌ ‌and‌ ‌the‌ ‌prices‌ ‌of‌ ‌its‌ ‌next‌ ‌gen‌ ‌consoles:‌ ‌Series‌ ‌X‌ ‌ and‌ ‌S.‌ ‌Both‌ ‌will‌ ‌be‌ ‌launched‌ ‌on‌ ‌the‌ ‌same‌ ‌day,‌ ‌on‌ ‌November‌ ‌10,‌ ‌2020.‌ ‌While‌ ‌the‌ ‌Xbox‌ ‌Series‌ ‌X‌ ‌ console‌ ‌is‌ ‌priced‌ ‌at‌ ‌$499,‌ ‌the‌ ‌Xbox‌ ‌Series‌ ‌S,‌ ‌called‌ ‌the‌ ‌"smallest‌ ‌Xbox‌ ‌ever"‌ ‌will‌ ‌come‌ ‌at‌ ‌$299.‌ ‌
‌
India‌ ‌prices‌ ‌
Xbox‌ ‌Series‌ ‌X‌ ‌has‌ ‌been‌ ‌priced‌ ‌at‌ ‌Rs‌ ‌49,990‌ ‌while‌ ‌the‌ ‌Series‌ ‌S‌ ‌console‌ ‌will‌ ‌come‌ ‌at‌ ‌Rs‌ ‌34,990,‌ ‌ Xbox‌ ‌India‌ ‌announced‌ ‌this‌ ‌in‌ ‌a‌ ‌Facebook‌ ‌post.‌ ‌Pre-orders‌ ‌start‌ ‌from‌ ‌September‌ ‌22.‌ ‌
‌
The‌ ‌Xbox‌ ‌Series‌ ‌S‌ ‌console‌ ‌comes‌ ‌in‌ ‌Robot‌ ‌White‌ ‌colour‌ ‌and‌ ‌features‌ ‌a‌ ‌new‌ ‌design.‌ ‌Xbox‌ ‌ Series‌ ‌S‌ ‌includes‌ ‌the‌ ‌new‌ ‌Xbox‌ ‌Wireless‌ ‌Controller,‌ ‌also‌ ‌in‌ ‌Robot‌ ‌White.‌ ‌This‌ ‌controller‌ ‌will‌ ‌ also‌ ‌be‌ ‌available‌ ‌as‌ ‌a‌ ‌standalone‌ ‌purchase‌ ‌this‌ ‌holiday‌ ‌and‌ ‌has‌ ‌features‌ ‌like‌ ‌improved‌ ‌ ergonomics,‌ ‌our‌ ‌hybrid‌ ‌D-pad,‌ ‌textured‌ ‌grip‌ ‌on‌ ‌the‌ ‌triggers,‌ ‌bumpers‌ ‌and‌ ‌back,‌ ‌as‌ ‌well‌ ‌as‌ ‌the‌ ‌ new‌ ‌dedicated‌ ‌Share‌ ‌button.‌ ‌ ‌
‌
Xbox‌ ‌Series‌ ‌S‌ ‌vs‌ ‌Xbox‌ ‌One‌ ‌
‌
As‌ ‌per‌ ‌Microsoft,‌ ‌Xbox‌ ‌Series‌ ‌S‌ ‌delivers‌ ‌4x‌ ‌the‌ ‌processing‌ ‌power‌ ‌of‌ ‌an‌ ‌Xbox‌ ‌One‌ ‌console‌ ‌and‌ ‌ supports‌ ‌experiences‌ ‌up‌ ‌to‌ ‌120fps,‌ ‌with‌ ‌support‌ ‌for‌ ‌hardware-accelerated‌ ‌DirectX‌ ‌Ray‌ ‌Tracing‌ ‌ and‌ ‌Variable‌ ‌Rate‌ ‌Shading.‌ ‌ ‌
‌
In‌ ‌addition,‌ ‌Xbox‌ ‌Series‌ ‌S‌ ‌includes‌ ‌512GB‌ ‌of‌ ‌custom‌ ‌SSD‌ ‌storage‌ ‌and‌ ‌is‌ ‌powered‌ ‌by‌ ‌the‌ ‌Xbox‌ ‌ Velocity‌ ‌Architecture,‌ ‌delivering‌ ‌more‌ ‌than‌ ‌40x‌ ‌the‌ ‌I/O‌ ‌bandwidth‌ ‌of‌ ‌an‌ ‌Xbox‌ ‌One‌ ‌that‌ ‌is‌ ‌ claimed‌ ‌to‌ ‌result‌ ‌in‌ ‌faster‌ ‌loading‌ ‌times,‌ ‌steadier‌ ‌frame‌ ‌rates‌ ‌and‌ ‌Quick‌ ‌Resume‌ ‌for‌ ‌multiple‌ ‌ titles.‌ ‌
‌
Xbox‌ ‌Series‌ ‌X‌ ‌and‌ ‌Xbox‌ ‌Series‌ ‌S:‌ ‌The‌ ‌similarities‌ ‌
‌
Microsoft‌ ‌claims‌ ‌that‌ ‌Xbox‌ ‌Series‌ ‌S‌ ‌delivers‌ ‌the‌ ‌same‌ ‌next‌ ‌generation‌ ‌speed‌ ‌and‌ ‌performance‌ ‌ that‌ ‌define‌ ‌Xbox‌ ‌Series‌ ‌X.‌ ‌It‌ ‌is‌ ‌similar‌ ‌in‌ ‌CPU‌ ‌and‌ ‌has‌ ‌the‌ ‌identical‌ ‌I/O‌ ‌performance‌ ‌as‌ ‌Xbox‌ ‌ Series‌ ‌X,‌ ‌though‌ ‌it‌ ‌renders‌ ‌at‌ ‌a‌ ‌lower‌ ‌resolution.‌ ‌ ‌
‌
You'll‌ ‌also‌ ‌experience‌ ‌the‌ ‌same‌ ‌audio‌ ‌on‌ ‌Xbox‌ ‌Series‌ ‌S‌ ‌that‌ ‌you‌ ‌will‌ ‌on‌ ‌Xbox‌ ‌Series‌ ‌X‌ ‌with‌ ‌ Spatial‌ ‌Sound,‌ ‌including‌ ‌support‌ ‌for‌ ‌Dolby‌ ‌Atmos.‌ ‌Support‌ ‌for‌ ‌Dolby‌ ‌Vision‌ ‌via‌ ‌streaming‌ ‌media‌ ‌ apps‌ ‌will‌ ‌be‌ ‌available‌ ‌across‌ ‌Xbox‌ ‌Series‌ ‌S‌ ‌and‌ ‌Xbox‌ ‌Series‌ ‌X‌ ‌at‌ ‌launch,‌ ‌and‌ ‌Dolby‌ ‌Vision‌ ‌ support‌ ‌for‌ ‌gaming‌ ‌will‌ ‌come‌ ‌first‌ ‌to‌ ‌our‌ ‌next-gen‌ ‌Xbox‌ ‌consoles‌ ‌in‌ ‌2021.‌ ‌
‌
Xbox‌ ‌Series‌ ‌X‌ ‌and‌ ‌Xbox‌ ‌Series‌ ‌S:‌ ‌The‌ ‌differences‌ ‌
‌
The‌ ‌primary‌ ‌difference‌ ‌between‌ ‌Xbox‌ ‌Series‌ ‌X‌ ‌and‌ ‌Xbox‌ ‌Series‌ ‌S‌ ‌is‌ ‌in‌ ‌resolution.‌ ‌The‌ ‌company‌ ‌ says‌ ‌that‌ ‌since‌ ‌many‌ ‌gamers‌ ‌prefer‌ ‌framerate‌ ‌over‌ ‌resolution,‌ ‌it‌ ‌built‌ ‌a‌ ‌console‌ ‌that‌ ‌didn't‌ ‌require‌ ‌a‌ ‌4K‌ ‌TV.‌ ‌While‌ ‌Series‌ ‌X‌ ‌is‌ ‌meant‌ ‌for‌ ‌high‌ ‌resolution‌ ‌gameplay,‌ ‌Series‌ ‌S‌ ‌renders‌ ‌the‌ ‌ same‌ ‌game‌ ‌at‌ ‌a‌ ‌lower‌ ‌resolution.‌ ‌
‌
Xbox‌ ‌Series‌ ‌S‌ ‌delivers‌ ‌approximately‌ ‌3x‌ ‌the‌ ‌GPU‌ ‌performance‌ ‌of‌ ‌Xbox‌ ‌One‌ ‌and‌ ‌was‌ ‌designed‌ ‌ to‌ ‌play‌ ‌games‌ ‌at‌ ‌1440p‌ ‌at‌ ‌60‌ ‌frames‌ ‌per‌ ‌second,‌ ‌with‌ ‌support‌ ‌for‌ ‌up‌ ‌to‌ ‌120fps,‌ ‌as‌ ‌per‌ ‌ Microsoft.‌ ‌