snapdragon: Qualcomm brings four new Snapdragon chipsets for mid-range and entry-level phones – Times of India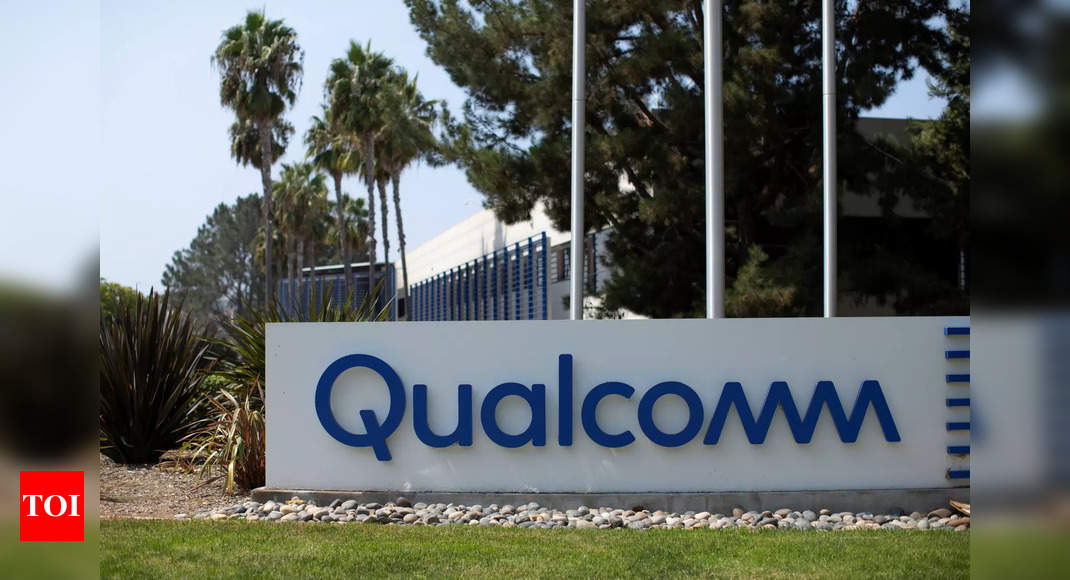 US-based chipmaker Qualcomm has announced four new additions to its Snapdragon 7, 6 and 4 series. Among the newly announced chipsets, two of them are new chipsets and the remaining two are Plus versions of current chips. The new chipsets are – Qualcomm Snapdragon 778G+ 5G, 695 5G, 480+ 5G and 680 4G. The focus is mostly on 5G connectivity, though there is a new option for 4G-only needs and three out of the four chips have a 6 nm node.
Qualcomm predicts that upcoming mid-range smartphones, in particular, can benefit from this upgrade and its new processors will help accelerate 5G phone adoption, especially in emerging regions.
Snapdragon 778G+ 5G
The original Snapdragon 778G is based on a 6 nm process, though it has been refined to allow for higher clock speeds. The Kryo 670 Prime core now runs at 2.5 GHz (up from 2.4 GHz). Additionally, the Adreno 642L GPU has been given a boost too, promising 20% higher performance. The rest is as before, meaning an X53 5G modem for up to 3.7 Gbps downlinks and 1.6 Gbps uplinks, a triple IPS (Spectra 570L) and so on.
Snapdragon 695 5G
This is a follow-up to the Snapdragon 690 with mmWave 5G support (which is not there in the 690). This should make the new chip popular with carriers that are promoting their mmWave networks, but there are also some performance upgrades.
The Snapdragon 695 also improves CPU performance by up to 15% and GPU performance by up to 30%. This is because it moves up to the newer CPU cores Kryo 660 (vs. 560 for the older chip) and the Adreno 619 (vs. 619L).
Another major part of the upgrades is the node – this is a 6 nm chip, replacing the older 8 nm chip, which should be good for energy efficiency.
Snapdragon 680 4G
The Snapdragon 680 features a 4G LTE modem, so this will be used in basic mid-rangers. The whole thing is a mix of old and new features on the same 6nm node as its siblings, but it uses Kryo 265 CPU cores, which are presumably upgraded versions of the Kryo 260 cores used most recently in the Snapdragon 662 (an 11 nm chip). This one has the same Adreno 610 GPU as well.
Cameras will be catered to by a triple ISP, a Spectra 346. Triple ISPs are pretty rare outside of high-end designs, they allow the chipset to process image data from three cameras simultaneously.
Snapdragon 480+ 5G
The original Snapdragon 480 was Qualcomm's first 400-series chipset with a 5G modem, which made it a common sight on the more affordable 5G phones. The Snapdragon 480+ is still an 8nm chip with relatively old Kryo 460 CPU cores and an Adreno 619 GPU. However, the prime CPU now runs at 2.2 GHz (up from 2.0 GHz), the GPU has been boosted up as well.
This chip can drive 1080p+ displays at up to 120Hz, whereas the Snapdragon 680 can only do it at 90Hz. For connectivity – the X51 modem on the 480+ supports both sub-6 and mmWave 5G networks.
The Snapdragon 680 is expected to be probably more power efficient, while the 480+ is expected to offer more speed. HMD Global, the current home of Nokia phones, is interested in the Snapdragon 480+ (it has already used the original 480 in several models). Oppo seems to have its eye on the Snapdragon 695 for that added mmWave support. Xiaomi expressed interest in the 695 and the Snapdragon 778G+. New phones can also be expected with these chips from Motorola, Vivo and Honor as well.
It's not yet clear when to expect the first devices with the new chipsets. The Plus models are essentially the same hardware, so they should be out the door before the brand new designs.