microsoft: Windows 11 rolling out on October 5: Here's how to prepare your laptop for the update – Times of India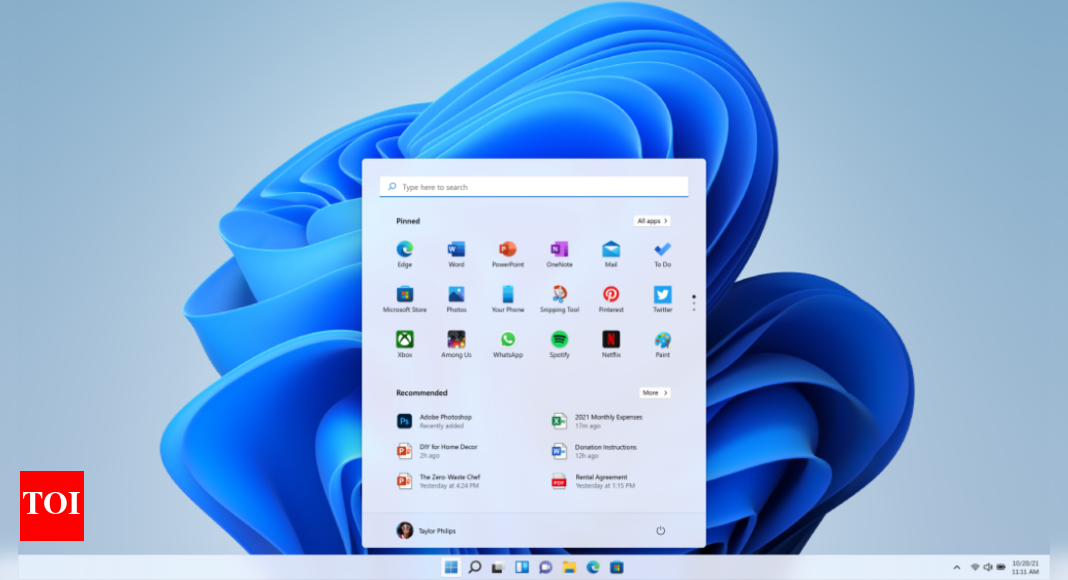 Microsoft is all set to roll out Windows 11 for all compatible devices starting October 5. The beta version of the operating system has already been out now for months and the final build is also available to Windows Insider users. The update is said to have intuitive navigation along with a refreshed look and more apps. One of the most noticeable changes in Windows 11 in the taskbar, which looks similar to the one on Mac, and context menus, popups and windows have rounded corners. According to the company, Windows 11 is built on the same foundation as the Windows 10 and it is designed to work efficiently on both touchscreen and non-touchscreen devices. To help get the latest version of Windows without any hiccups you can read below.
Check if your device is compatible
Windows 11 is compatible with almost every device that supports Windows 10 but to be sure if your device is compatible for the update you install the Microsoft PC Health Check app on your device. The app runs through the system configurations and will give you the required information. The company has also revealed minimum hardware requirements that you can go through – 1Ghz processor, 4GB of RAM, 64GB available storage, graphic card that supports DirectX 12, Trusted Platform Module (TPM) version 2.0 and 720p resolution display. Microsoft also suggests that for best Windows 11 upgrade experience, eligible devices should be running Windows 10, version 20H1 or later.
Set up your Microsoft account to transfer files and favorites
One account connects your device across Microsoft apps and services like Office, OneDrive, Edge and Microsoft Store. When you sign in with a Microsoft account on your new Windows 11 device, your files and data will come with you.
Backup your files, create a recovery drive
Windows updates are usually stable but you can never be safe enough when it comes to technology. Your files and applications may get corrupted or deleted during the installation. To be sure that your data is safe, it is advised that you should back it up on cloud storage.
You can also create a recovery drive on a USB device that can be used to access system recovery tools if issues arise during the installation of Windows 11. With the recovery drive, you can install Windows 10 or older versions of Windows. You should also keep in mind that the recovery drive can't help you to recover corrupted files. So it is also crucial to backup your data as well.
To check if Windows 11 is ready for your device, go to Settings > Windows Update and select Check for updates. If the upgrade is available for your device and you want to proceed, download and install it.