JioPhone Next: Reliance JioPhone Next: How Android may be the big differentiator – Times of India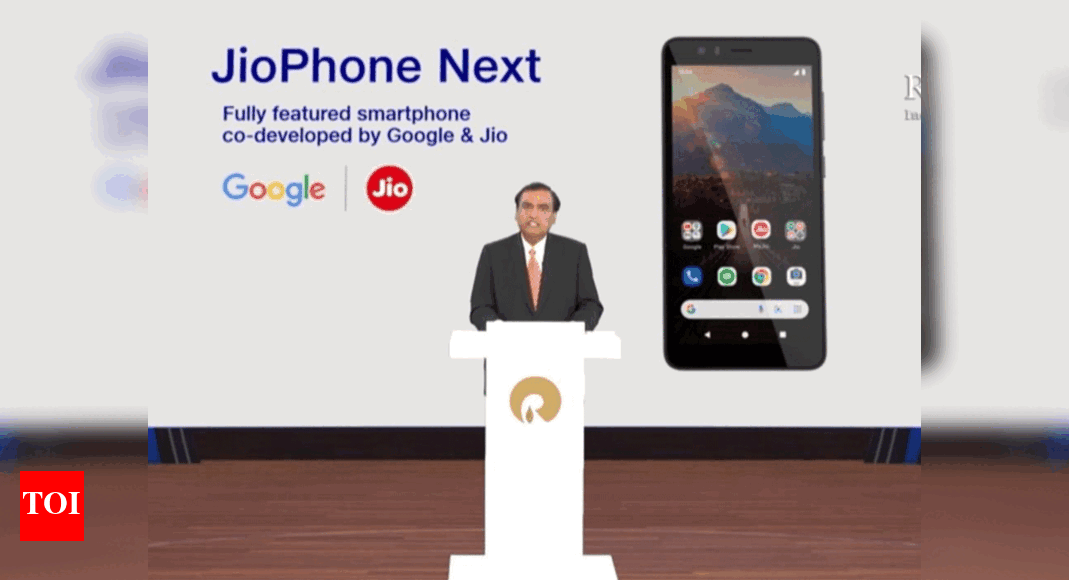 To bridge the digital divide, bringing down the cost of mobile handsets while offering affordable data plans is crucial in India. While most prominent smartphone brands have almost given up on the low-end smartphone market due negligible returns, Reliance Jio made a bold move by launching the "smart feature phone" called JioPhone running KaiOS a in 2017.
The JioPhone offered an affordable arrangement for 2G mobile users to upgrade to 4G networks and experience mobile internet. But soon it became quite apparent that the JioPhone–which looks like a feature–is just not enough to be included in the mobile economy. The reason is simple– you either need to be on Android or on iOS if you truly intend to be called a smartphone user. This is because you need access to apps which were missing on the JioPhone and neither Apple nor any popular Android OEM is interested in launching $30 smartphones.
Balancing cost and expectations
Unlike KaiOS powered JioPhone and JioPhone 2, the new JioPhone Next is powered by a stripped down variant of Android operating system. It's not a full-fledged Android phone but it is something like an Android phone and the biggest advantage is that users will get access to Google Play store. All games and apps will not be accessible but at least some of it will be.
Launching a full-fledged Android phone under Rs 3,000 given the high prices of chips, battery, camera modules is a huge cost challenge irrespective of the scale involved. Also, running Android 10 or 11 on a smartphone needs some minimum hardware requirements. Jio's partnership with Google is all about balancing expectations and costs.
Google has said that it will provide an optimised version of Android without revealing much details. In other words, it will be a light version of Android with only necessary Google services, basic features and access to Google Play store. Also, Google needs to optimise the software so that it can work well on low-end hardware. To make the deal sweeter, Google has promised to provide timely software and security updates.
The JioPhone Next will help Reliance Jio get more subscribers and for Google, it means expanding the user base for Google services. At the same time, users will benefit from a low-cost device that offers access to Android apps.
300 million 2G mobile users in India
It's 2021 and India still continues to have more than 300 million 2G feature phone users. Now, there's a huge cost barrier that is worrying 2G users and also the mobile brands. For these 300 million 2G mobile users, they simply can't afford to spend Rs 5000 and more on an Android smartphone that may last them for around 18 months. And for most brands, launching cheap smartphones, especially in the price range of Rs 5,000 means very little margins to play. With the intense competition, it's difficult for brands to cater to this segment of users.
Now, Reliance tried to pitch in with the JioPhone at an "effective" launch price of Rs zero over three years after someone had paid Rs 1,500. But with KaiOS, it was as good as using a feature phone, except for the fact that people got to use WhatsApp, Facebook and play some games. The next-generation JioPhone 2 with a QWERTY keypad that was launched at Rs 3,000 didn't create much noise either. So, it was clear that the JioPhone needs to offer Android to make it saleable. In this case, if not Android then something that can get the job done and deliver the necessary apps.
Reliance JioPhone Next at an affordable price point is promising a lot– access to Android apps, software support from Google, better cameras and a bigger touch screen display. On paper, the JioPhone Next seems like the ideal solution for the price but we can only talk about the reality after September 10, when it becomes available.