Apple iPhone 12 vs iPhone 12 Mini vs iPhone 11 vs iPhone SE vs iPhone XR: Which offers the most value for money – Times of India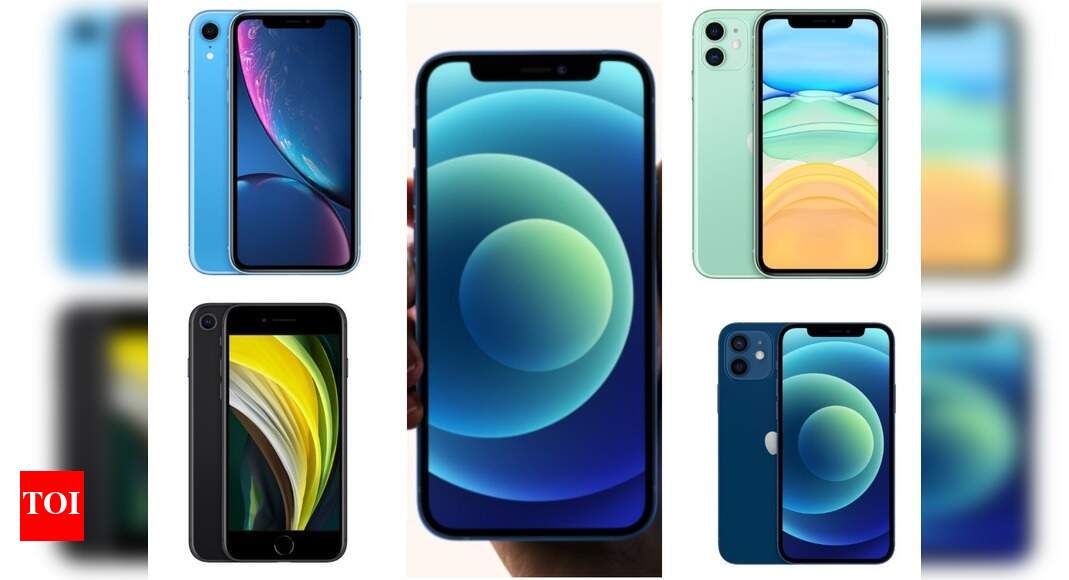 Apple has introduced two new 'affordable' iPhones: iPhone 12 and iPhone 12 Mini along with the flagship iPhone 12 Pro models. In April, Apple had launched the iPhone SE (2nd generation) as another entry-level option. Now, Apple has reduced the price of the iPhone 11 as well. So, if you are keen on buying an affordable iPhone then you have these options– iPhone SE (64GB) at Rs 39,900, iPhone XR (64GB) at Rs 47,900, iPhone 11 (64GB) at Rs 54,900, iPhone 12 Mini (64GB) at Rs 69,900 and the iPhone 12 (64GB) at Rs 79,900.
(Detailed price list at the end of this article.)
The iPhone SE is similar to the iPhone XR feature-wise with the smallest screen size of 4.7-inch and has the same processor as that of iPhone 11. On other hand, the iPhone 12 Mini has features similar to the iPhone 11 but has a screen size of 5.4-inch and is powered by the latest A14 Bionic chip. On the other hand, the iPhone 12 has the same features of the iPhone 12 Mini but has a bigger screen of 6.1-inch.
What's new and special about the iPhone 12 and iPhone 12 Mini
The new iPhone 12 and 12 Mini offers 5G support and claims to be tougher with the Ceramic Shield front panel. Like the iPhone 11, these also feature aluminum bodies. The iPhone 12 and 12 Mini offer better protection against water and are water resistant to a depth of 6 meters for up to 30 minutes. Both iPhone 12 and 12 Mini are compatible with MagSafe accessories and wireless chargers. The new iPhones feature better display, faster chip and offer a few new camera features.
Display: iPhone 12, 12 Mini offer better displays than iPhone 11, XR or SE
The iPhone 12 and 12 Mini comes with Super Retina XDR displays of 6.1-inch and 5.4-inch respectively. The display quality of the iPhone 12 and 12 Mini is similar but it is better than the iPhone 11. The new iPhones feature OLED, HDR displays and offer higher resolution and pixel density.
On the other hand, the iPhone XR and iPhone 11 offer the same 6.1-inch Liquid Retina HD display, the iPhone SE flaunts a smaller 4.7-inch Retina HD display. The iPhone SE also comes with a LCD IPS panel and has a resolution 1334×750 pixels at 326 ppi pixel density. There is a fingerprint-resistant oleophobic coating.
Apple iPhone 12: 6.1-inch Super Retina XDR (OLED, HDR) display
Apple iPhone 12 Mini:
5.4-inch Super Retina XDR (OLED, HDR) display
Apple iPhone 11:
6.1-inch Liquid Retina HD (LCD) display
Apple iPhone SE:
4.7-inch Retina HD (LCD) display
Apple iPhone XR:
6.1-inch Liquid Retina HD (LCD) display
Processor: iPhone 12, 12 Mini comes with the latest and faster processor
The new iPhone 12 and 12 Mini is powered by A14 Bionic chip with next-generation Neural Engine. Apple claims it is 50% faster and offers better graphics.
On the other hand, the iPhone SE is powered by the A13 Bionic chip with third-generation Neural Engine, the same processor that powers the iPhone 11. While the iPhone SE has a small compact size, it has a more powerful processor when compared to the iPhone XR, which runs A12 Bionic chip with second-generation Neural Engine.
Apple iPhone 12: A14 Bionic chip with next-generation Neural Engine
Apple iPhone 12 Mini: A14 Bionic chip with next-generation Neural Engine
Apple iPhone 11: A13 Bionic chip with third-generation Neural Engine
Apple iPhone SE: A13 Bionic chip with third-generation Neural Engine
Apple iPhone XR: A12 Bionic chip with second-generation Neural Engine
Camera: iPhone 12, 12 Mini and iPhone 11 has similar cameras
The new iPhone 12 and 12 Mini has the same camera features that is found in the iPhone 11. The phones offer a dual camera setup. There's 12MP Ultra Wide and Wide cameras with Night mode along with a 12MP TrueDepth camera with 4K video recording up to 60 fps.
The only difference is that the new iPhone 12,12 Mini offers Dolby Vision HDR video recording up to 30 fps and Night mode Time-lapse which are missing in the iPhone 11. If you are not much into video recording then the camera experience will be exactly the same like using the iPhone 11.
As for the selfie camera, the iPhone 11 is missing out on Night Mode and Deep Fusion which are introduced in the new iPhone 12, 12 Mini. Apart from that the selfie camera is also the same.
On the other hand, the iPhone SE has the same rear camera as that of the iPhone XR: single-lens 12MP wide angle camera. There is support for 4K video recording and OIS too. Rear camera features are similar to the iPhone XR. However, the front camera differs slightly. The iPhone XR has a TrueDepth 7MP front camera with 7MP camera with 1080p HD video recording up to 60 fps. Having said that, the iPhone SE comes with a FaceTime HD 7MP front camera camera with 1080p HD video recording up to 30 fps.
Apple iPhone 12: Dual 12MP Ultra Wide and Wide cameras with Night mode, Dolby Vision HDR video recording and Night mode Time-lapse.
Apple iPhone 12 Mini: Exactly same as iPhone 12
Apple iPhone 11: Dual 12MP Ultra Wide and Wide cameras with Night mode
Apple iPhone SE: Single 12MP Wide camera
Apple iPhone XR: Single 12MP Wide camera
Battery: It's identical and you will have to charge all of them every night
The battery life of iPhone 12, 12 Mini is similar to the iPhone 11 with video playback time of streamed content of around 10-11 hours. However, the new iPhone 12 offers MagSafe support which is missing on iPhone 11 and older models. Unless you wirelessly charge your iPhone or plan to add other MagSafe accessories then this shouldn't matter at all. The battery life of the iPhone SE is similar to the iPhone 8 while the iPhone XR and 11 have better battery life. Having said that with all these iPhones, you would need to charge them every night. There could be a difference in battery time as per usage.
Here are the new prices of all models of iPhone XR, SE, 11, 12 and 12 Mini
Apple iPhone 12 Mini variants and prices:
iPhone 12 Mini (64GB): Rs 69,900
iPhone 12 Mini (128GB): Rs 74,900
iPhone 12 Mini (256GB): Rs 84,900
Apple iPhone 12 variants and prices:
iPhone 12 (64GB): Rs 79,900
iPhone 12 (128GB): Rs 84,900
iPhone 12 (256GB): Rs 94,900
Apple iPhone 11 variants and prices:
iPhone 11 (64GB): Rs 54,900
iPhone 11 (128GB): Rs 59,900
iPhone 11 (256GB): Rs 69,900
Apple iPhone SE variants and prices:
iPhone SE (64GB): Rs 39,900
iPhone SE (128GB): Rs 44,900
iPhone SE (256GB): Rs 54,900
Apple iPhone XR variants and prices:
iPhone XR (64GB): Rs 47,900
iPhone XR (128GB): Rs 52,900