airpods: Apple AirPods buying guide: Which one should you buy – Times of India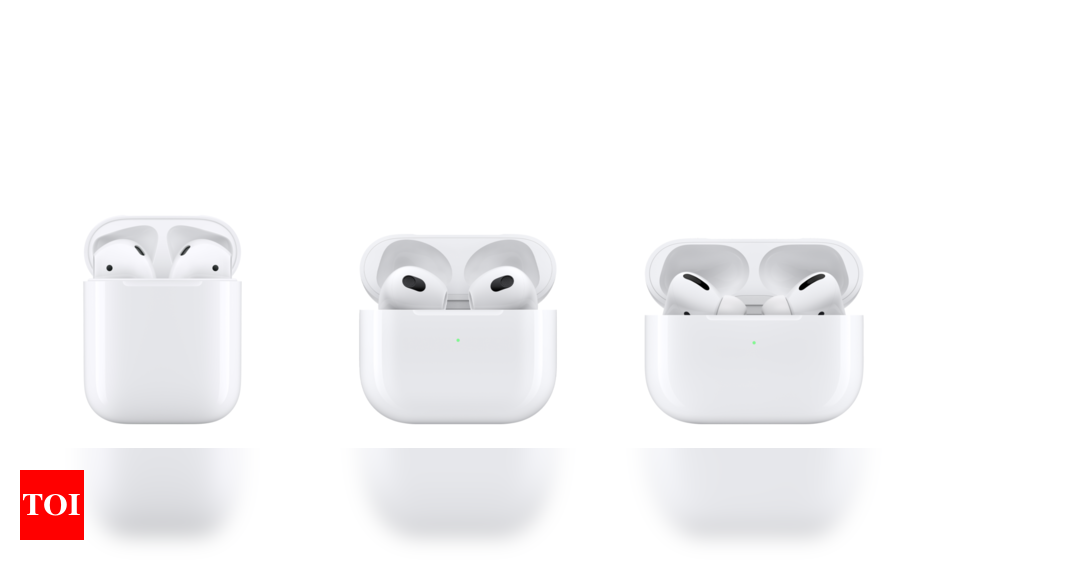 After a gap of almost 30 months, Apple launched the new variant of AirPods, the world's most popular wireless headphones. The new AirPods are the third generation of true wireless earbuds from Apple. Apple currently sells three models of AirPods — AirPods Pro, AirPods (3rd generation), and AirPods (2nd generation). Here we tell you how all three AirPods compare, what features they offer and which one should you buy:

AirPods Pro: Features, price and more
See the word Pro in the name? That should give you an indication that these are the best wireless buds that Apple sells. AirPods Pro sport an in-ear design and come with silicone ear tips. Apple gives three sizes of ear tips for you to choose from so you can find the best fit.
Since they are the Pro earbuds, you will get all the bells and whistles. You get Active Noise Cancellation (ANC) — which is arguably the best you will find in any wireless earbuds in the market — and there's the Transparency mode as well. AirPods Pro have a Force Sensor that allows you to control playback and activate ANC mode as well. The AirPods Pro are powered by the H1 chip and support fast pairing, automatic device switch, Spatial Audio and other features.
Apple has also upgraded the AirPods as they now come with a MagSafe Charging Case. You can also wireless charge it with any Qi-enabled charger.
Key features: ANC, Spatial Audio support
Battery life: 4.5 hours and 24 hours with charging case.
Price: Rs 24,990

AirPods (3rd generation): What you get
The newest AirPods from Apple are inspired by the AirPods Pro in more than one way. Apple has tweaked the design and shortened the stem compared to the AirPods (2nd generation). They look quite similar to the AirPods Pro but don't come with any ear tips inside the box. The new AirPods come with a skin-detect sensor that tells the connected Apple devices you have when the AirPods are on.
AirPods (3rd generation) have the H1 chip which gives you support for features like audio sharing, fast pairing and more. There's no ANC feature on the AirPods 3 — reserved only for AirPods Pro. However, the new AirPods do support Spatial audio. You also get a MagSafe Charging case and the case can be wirelessly charged as well.
Key features: Spatial Audio support, skin-detect sensor
Battery life: 6 hours and 24 hours with charging case.
Price: Rs 18,500

AirPods (2nd generation): Is this the one for you?
The oldest — and cheapest — AirPods that you can currently buy. A similar design to the new AirPods but with a longer stem. These AirPods are also powered by the H1 chip but are low on features. There's no ANC or support for Spatial Audio. You can play/pause music or activate Siri by tapping on the sides of the earbuds.
Apple used to give wireless charging cases with these AirPods but after the new AirPods were launched, you get the one with lightning port connectivity only. These AirPods still produce really good audio quality and offer seamless integration with other Apple devices. If you aren't too much into the best of Apple has to offer, these are the AirPods for you. Low — relatively speaking — on cost but high on utility and quality.
Key feature: H1 chip for fast pairing
Battery life: 5 hours and 24 hours with charging case
Price: Rs 12,500

Which is the best AirPods for you?
The answer to this is that if you want the best and no compromises then the AirPods are the one to pick. Despite being two years old, the AirPods Pro can compete with any and every latest premium offering in the market. But some people might find the price tag a deterrent. And that's where the AirPods (3rd gen) come in — they are about Rs 7,000 less and are the newest product from Apple. You won't get features like ANC and Transparency mode but the second AirPods were better and blocking noise without ANC, so we expect these also to do a fair job. If you want the most 'basic' earbuds but still good performance then the AirPods (2nd generation) are the right choice.