5-star safety ratings, connected cars: What is it and what it means for users – Times of India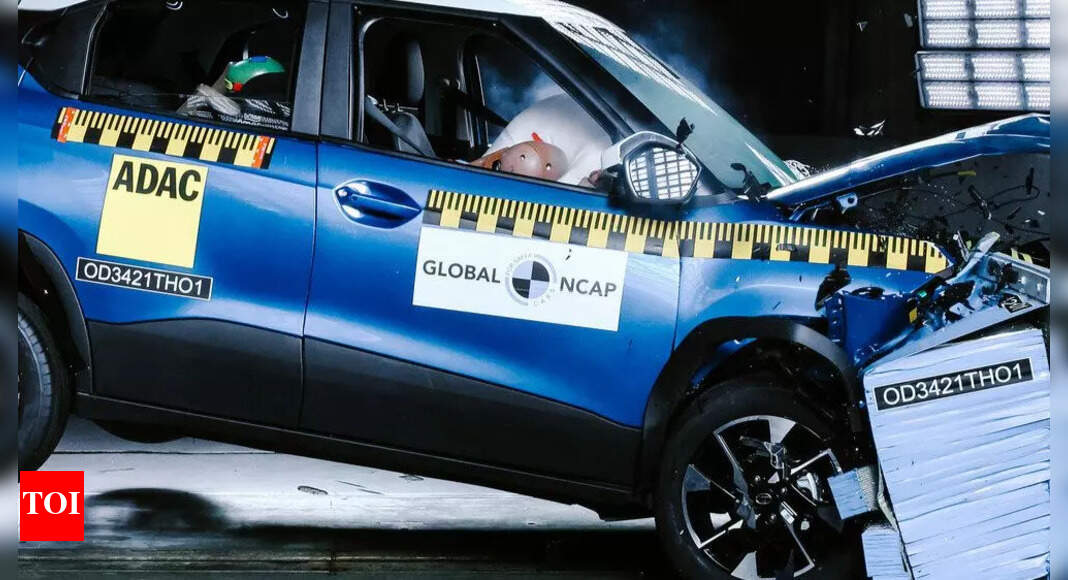 Tata Motors recently announced that its upcoming SUV Tata Punch has received a 5-star rating for adult occupant protection and a 4-star rating for child occupant protection from Global NCAP (New Car Assessment Program). Unveiled earlier this month, Tata Punch is set to launch on October 18 and will be a part of the mini/micro SUV segment. It is likely to be priced in the range of Rs 5.5 lakh to Rs 8 lakh (ex-showroom). Tata Punch is the company's third car to receive a 5-star rating for adult protection from Global NCAP after Altroz and Nexon. Apart from safety, connected cars is the latest buzzword among carmakers. Almost every other brand is integrating more and more technology inside to make cars smarter, safer and better. We explain what 5-star safety ratings mean, what connected cars can do and more.
How safety tests are done
First, the manufacturer reaches out to Global NCAP with a request to submit a model for voluntary testing. For the test, there is an independent selection from the vehicles at the plant or any dealership. After this, the vehicle is sent to the laboratory where various crash tests are performed for detailed technical inspection.
What is Global NCAP
For those unaware, Global NCAP is a programme of the Towards Zero Foundation, a UK-based charity working internationally to support the UN Decade of Action for Road Safety, with a goal of halving road deaths and serious injuries by 2030. In 2014, Global NCAP launched Safer Cars For India campaign with the objective of promoting safer vehicles in the country. Between 2014 and 2021 the programme has completed more than forty-five safety assessments.
What it means for users
Let's make clear that this is not a mandatory safety assessment. This is something that automakers do to enhance the roadworthiness or safety of their new products. So the car is 'safer' to speak but as we said it doesn't fall under the purview of any mandatory safety regulations. It is a nice m
Safety features in cars
Let's take the example of Tata Punch — since it has got a 5-star rating — which comes fitted with two airbags, ABS brakes and ISOFIX anchorages. It can be improved by equipping the model with standard Electronic Stability Control (ESC), side head impact protection systems as standard and 3 point belts in all seating positions. Now, these are rather "standard" features that most car manufacturers incorporate depending on the segment the car has been launched in.
Connected car safety features:
Connected cars in India are still exploring early waters. For instance, Tata uses the iRA technology in models like Nexon, Altroz, and Punch. On the Tata Punch, it comes as an additional package that is only available on the top Creative variant. The technology allows you to access and control various functions of the car through your smartphone. It also allows you to track the live location of your car and set a geo-fence perimeter to receive notifications on the breach. For instance, if someone tries to steal your car, you'll get an alert instantly on your smartphone. The app also notifies you when someone tries to break into your car.
The package also allows you to control and monitor a few things like lock and unlock function, turn on and off the headlights and more through the app.
Here as well, Tata isn't the first or only brand to do so. Hyundai uses something called Blue Link, which has more than 30 features, including the ability to lock/unlock the car. Or Kia Motors has Uvo Connect, which can be integrated with users' smartphones and smartwatches. Kia also gives functions like live car tracking, auto collision notification among others.