Karnataka polls: DK Shivakumar indicates brother Suresh may contest from Ramanagara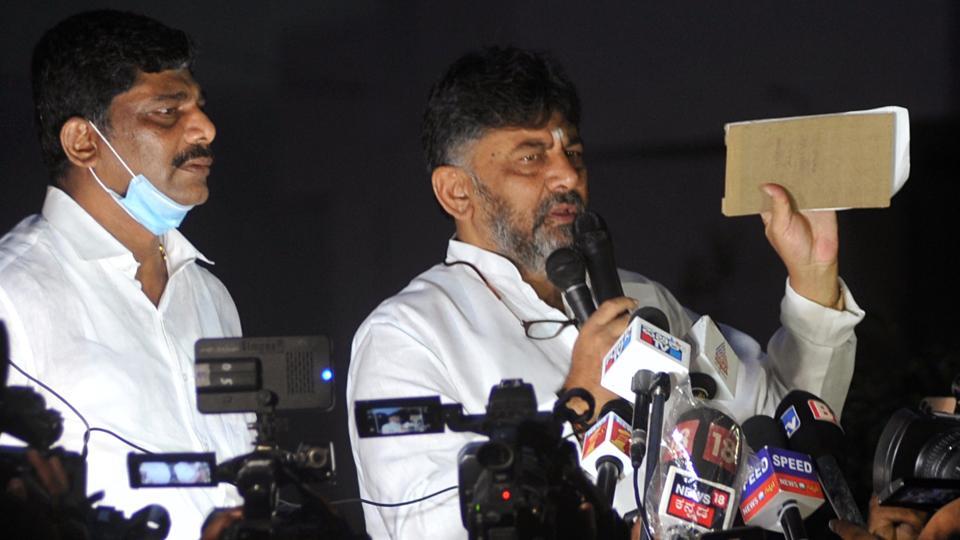 [ad_1]

Karnataka Congress President D K Shivakumar on Tuesday indicated that his brother and Member of Parliament from Bangalore Rural D K Suresh is likely to be fielded as the party's candidate from Ramanagara constituency in the Assembly polls, which is likely to be held by May. Speaking to reporters here, Shivakumar said, "I have got a message that he (Suresh) should be fielded."
Stating that it was not he who proposed the idea, he added, "I haven't discussed it yet, even with Suresh and our workers. It will be a major decision. I'm still thinking about it." In response to a question on whether there were any instructions from the Congress high command in this regard, he merely said, "I cannot reject it; such a proposal is there, but we haven't discussed it yet. I have to talk to everyone."
If Suresh, the lone Congress MP in the Lok Sabha from Karnataka, is fielded from Ramanagara, it will be a battle between two Vokkaliga bigwigs in their backyard, as JD(S) has fielded H D Kumaraswamy's son Nikhil Kumaraswamy as its candidate from the Assembly constituency. While Ramanagara is the home district of Shivakumar and Suresh, for Kumaraswamy and family it is their "Karma Bhoomi".
READ | Congress first list of candidates for Karnataka polls likely on March 17
When reporters asked Shivakumar if the message to field Suresh in the Assembly polls had come directly from the high command or whether it was a proposal from the state unit, Shivakumar said, "Not state. State unit means I'm here myself as the PCC President. There is a proposal, I'm not denying it." "Local party leaders and workers were also putting pressure on me, but I don't want to hold a by-election, but still the party has communicated in this regard. I'm yet to discuss this," he added.
To a question on whether Suresh's name would be announced in the Congress' first list of candidates, he said, "He (Suresh) has not sent in an application (for the ticket ) yet. We haven't thought about it yet." Anitha Kumaraswamy, who is the wife of Kumaraswamy, currently represents Ramanagara constituency as a JD(S) MLA. Anitha had won the Ramanagara seat in the November 2018 by-election as the joint candidate of the Congress-JD(S) coalition at the time.
The bypoll was held as the seat had fallen vacant after Kumaraswamy gave it up, preferring to represent neighbouring Channapatna, the other seat he had won in the Assembly election that year. Interestingly, at the time of the bypoll, Kumaraswamy as Chief Minister was leading the Congress-JD(S) coalition government in Karnataka, and Suresh as MP had extensively campaigned for Anitha's victory.
Nikhil Kumaraswamy was the joint candidate of Congress-JD(S) in the 2019 Lok Sabha election from Mandya, which he lost to BJP-backed independent candidate Sumalatha Ambareesh, an actor-turned-politician. Both Shivakumar and Suresh had campaigned for Nikhil during that election. At the time, Kumaraswamy and Shivakumar, considered to be "bete noires", had put aside their differences and joined hands, bringing the Congress and the JD(S) together to form a coalition government in the state.
The aim was to keep BJP out of power, as the 2018 Assembly election had thrown up a hung verdict. After the collapse of the coalition government in 2019, both leaders seem to have maintained a distance from each other, sources said. The ruling BJP is yet to announce its candidate for Ramanagara segment.
[ad_2]

Source link